When is it too cold to wash your car? This a subject which frequently comes up during the winter. To Knowing the right conditions when washing your automobile will assist you maintain the way it looks without causing any damage or problems, even though maintaining a clean car in subfreezing temperatures may seem like an impossible task.
In this piece, we'll examine the criteria that must be taken into consideration when determining if it's too cold to wash your car plus offer some practical advice to help you conduct a good winter wash. So let's get started with some of the finest techniques for keeping your car pristine even in thawing weather!
The Importance of Regular Car Washing
Regular car washing is important for several reasons. It first aids in maintaining the aesthetics of your car. Over time, dust, filth, and grime can gather on the car's exterior, giving it a lifeless and unappealing appearance. You may get rid of these impurities and keep your car appearing clean and bright by routinely cleaning it.
Second, routine car cleaning is necessary to maintain the condition of your automobile's paint job. When rubbed against or brushed off, dust and dirt particles that have been left on the surface will scratch the paint. This may result in long-lasting paintwork damage and lower your car's market value. You can stop these damages from happening and preserve the paint condition by routinely washing your car.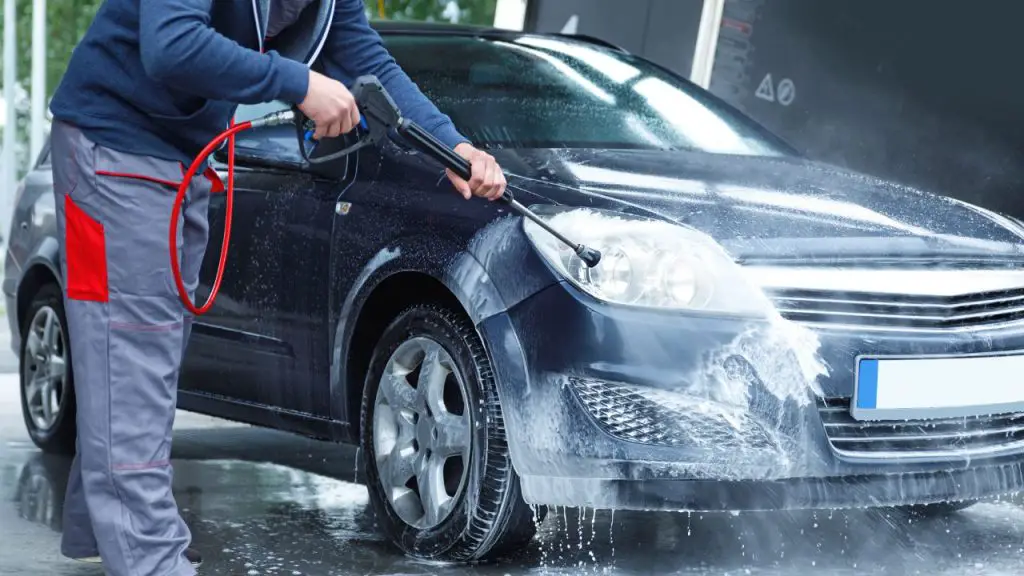 Read More: How To Remove Tire Marks From Car?
Factors to Consider for Cold Weather Car Washing
There are a number of things to take into account when deciding what temperature is best for washing your automobile in cold weather. The water's freezing point is one crucial factor. It is best to avoid washing your automobile if the temperature is close to or below freezing point (32°F or 0°C), as the water can quickly freeze on the surface and cause damage.
The kind of cleaning supplies you employ is another thing to take into account. In extremely cold weather, some car wash detergents may not function properly, leaving streaks or residue on your car. It is recommended to choose a specialized winter car wash solution that can withstand lower temperatures and provide a thorough clean without leaving any marks.
You ought to think about the time it will require for the car to dry after having cleaned. Due to lower ambient humidity and temperature levels, water droplets drying off surfaces takes longer at colder climates. When it is too cold outdoors, it's more likely that moisture will remain on your car after washing, possibly causing ice to form or even rusting over time.
How Temperature Affects the Cleaning Process
The efficacy of the cleaning procedure when washing your car is greatly influenced by the temperature. While it is typically advised to forgo washing your car when the temperature falls below freezing, there are other aspects to take into account. Water and soap can freeze on the surface of your automobile during freezing temperatures, potentially causing damage. Additionally, drying times might be slowed down by cold weather, leaving water stains and streaks on your car.
It's vital to remember that washing your automobile in excessively cold temperatures may not produce adequate results, even when the temperature is above freezing. The cleaning chemicals will operate more slowly when the temperature drops. This implies that the surface of your car might not be completely cleaned of dirt and filth. Moreover, using cold water during colder months can make it challenging for detergents to dissolve properly and effectively remove stubborn stains or contaminants.
Risks and Potential Damage in Extremely Cold Conditions
Washing your car in extremely cold conditions can pose several risks and potential damages. First off, water can easily freeze onto the surface of a car under cold temperatures. Before it gets a chance to dry, water that freezes can leave behind ugly streaks and difficult-to-clean wet spots. Furthermore, when washing your automobile in a cold environment, water droplets may freeze as they come into touch with the ground or even when being sprayed from a hose, creating icy patches that may cause slips and falls.
Furthermore, your vehicle's numerous components can be harmed by extremely cold temperatures. For instance, if you wash your car in subzero weather and then park it outside right away, any moisture that remains inside the car could freeze in the locks, windows, or door handles. In addition to impairing their functionality, this frozen moisture may also result in possible harm, such as shattered window mechanisms or broken door locks.
Tips for Safely Washing Your Car in Cold Weather
Time is the key while cleaning the vehicle in wintertime. Even though it may be tempting to wash your car in subfreezing conditions, it's vital to remember that the excessive cold might actually harm your car. So, at what temperature should you avoid washing your car? In general, experts advise against washing cars when it is below freezing (32°F or 0°C). Your car's surface and internal mechanisms are both extremely susceptible to the freezing of water and soap, which could result in problems like frozen windows, locks, or doors.
However, you should not just take the weather into account. The best course of action is to await until circumstances improve when washing your car if there is a lot of snow, ice, or ice on the ground or if the roads have been excessively treated with salt. This precaution is necessary because the water from car wash facilities can combine with road salt to form a corrosive solution that could harm your car's paint and undercarriage. In order to prevent potential harm from excessively cold temperatures and strong chemicals, it is imperative to wait for warmer weather and clearer road conditions before starting any car cleaning activities.
Alternative Options for Keeping Your Car Clean
Even when it's too chilly outside, there are always alternatives you may take into account in order to maintain your car clean. Using a touchless or touch-free car wash is a different choice. These car washes don't need to touch your car directly; instead, they use high-pressure water jets and unique cleaning ingredients. This technique makes sure that no scratches or other damage happen when cleaning, making it a secure solution for keeping your automobile clean throughout the winter.
Another option is utilizing indoor professional detailing services. Many auto shops or specialized detailing centers have controlled environments where they can thoroughly clean and polish your vehicle without exposing it to harsh weather conditions. These professionals have the necessary tools and knowledge to ensure a deep and thorough cleaning, leaving your car looking fresh and spotless even during freezing temperatures.
Conclusion of when is it too cold to wash your car
In order to prevent any damage, it is crucial to understand when it is too cold to wash your car. Water can easily freeze in colder conditions, forming ice on a vehicle's surface that can shatter or chip the paint. It's normally advised to avoid washing your automobile when it's below freezing because there is a greater chance of damage.
But if you have to wash your car in the winter, think about utilizing a touchless or hand-washing technique with warm water. To prevent them from freezing shut, make sure that all doors and windows are fully dried afterward. You can keep your automobile clean and maintained all winter long by being aware of the weather and taking the necessary precautions.
The Next Road (thenextroad.com) is an affiliate of the Amazon Services LLC Associates Program, so you can access the Amazon marketplace when on this domain. We will earn a commission from your qualified purchases.