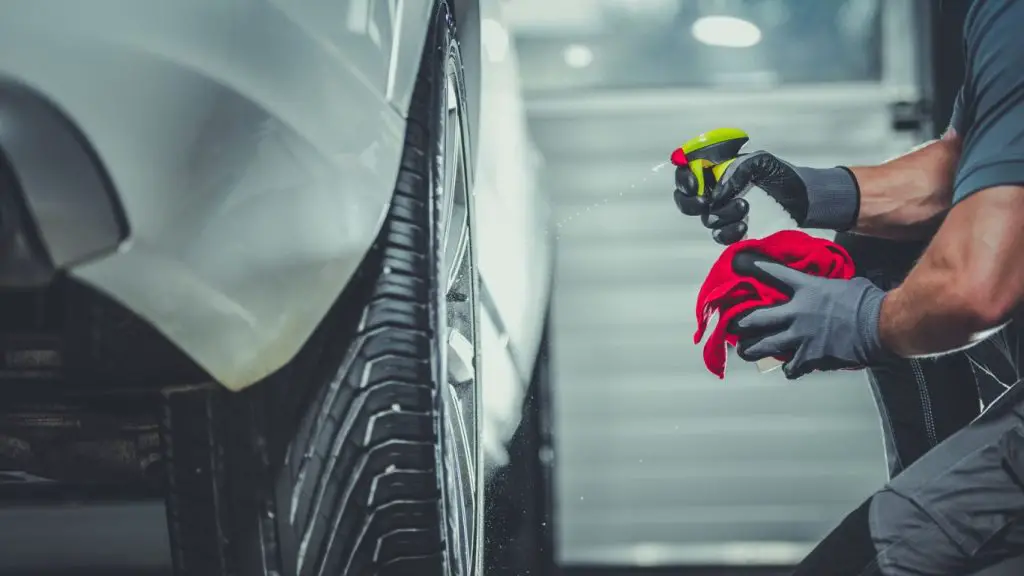 Have you had enough of your car's side being covered with dirty tire marks? here are a solution of how To remove tire marks from car? If so, don't be concerned; there are some excellent ways to get rid of the stains and get your automobile restored to the condition that it was. This post will go through many options for removing tire marks off an automobile so you may resume enjoying it. Depending on the paint and materials used on the car, different solutions will be discussed.
Causes of Tire Marks
The rubber material that the car's tires leave behind is usually what causes tire markings on vehicles. This can occur if a driver applies their brakes too forcefully or if a tire spins abruptly during a sharp turn. Brake dust that collects in car wheel wells can also result in tire markings. Additionally, road debris and stones that collect on a vehicle's tires and rub off onto the vehicle's outer surface while the vehicle is in motion can also leave tire markings.
Removing these tire marks requires thorough cleaning with an appropriate waxing product to help break down and remove any rubber residue or debris stuck to the vehicle's body. It is important to first use a damp cloth or sponge to remove any dirt particles before applying wax, which should then be wiped away with another dry cloth afterwards.
Assessment of Damage
Checking the paint of the vehicle for scratches or scrapes is the first step in determining the extent of tire mark damage. If there are any obvious indications of damage, it is crucial to get expert assistance to fix them. Cleaning and removing the dirt from the tire imprints themselves is possible if there are no cuts or scrapes. The simplest way to do this is to carefully wipe away the dirt from the area using a dry towel or cloth. Avoid scrubbing too vigorously to prevent further paint damage.
After all the dirt has been taken out, it's time to determine how far into the paint job itself the mark extends. One might be able to remove it with some soapy water, a soft brush, or a sponge if it only occurs on top of the paint work. To restore its former appearance, nevertheless, a more expert procedure, like wet sanding, may be required if the damage is more severe.
Apply wax or sealer as a last layer of defense against further damage once these stages have been completed and all tire marks have been effectively removed from your car's surface. This will help preserve your vehicle's original look and finish for longer periods of time while also protecting its underlying structure from potential harm caused by future incidents involving tires or other objects coming into contact with your car's surface.
Read More: Why Are Vogue Tires So Expensive?
10 Best Tools How to remove tire marks from car
Tire marks can be difficult to remove from a car, but are possible with the right techniques. The most important part of removing tire marks is understanding the type of surface and type of tire mark. For example, rubber tires on concrete will leave a different residue than those on asphalt. Once you have identified the type of surface and tire mark, determine what cleaning supplies are needed to clean them up.
1. Use baking soda or vinegar
Tire marks on your car can be easily and affordably removed using baking soda. Prepare a paste with baking soda and warm water to get getting started. After the paste is prepared, apply it to the outer parts of your automobile that have been affected and allow it sit from 10 to 15 minutes until cleaning it with a sponge or damp cloth. To assist you reach any areas that are difficult to reach, one may additionally utilize an old toothbrush. Scrub any leftover debris, then wash it out with water and dry with a soft towel or cloth made of microfiber.
Vinegar is another great option when it comes to removing tire marks from your car's surface. After that spray the area that is affected extensively with a paste containing a mixture of warm water and vinegar. Then Leave it sit for a few minutes before cleaning it up with a wet towel and towel. In order optimal results, make sure to dry completely using a soft towel or microfiber cloth after rinsing any leftover residues with fresh water.
Image
Product
Details  
Price
Arm & Hammer Pure Baking Soda
Brand: Arm & Hammer
Number of Items: 3
Unit Count: 24.0 Ounce
Item Weight: 0.3 Ounces
Item Form: Powder
Check Price
ON
AMAZON
2. Use detergents
Tire markings on autos can be easily removed with detergents. Start by making a soapy solution out of warm water, mild detergent, and one cup of baking soda for added cleaning strength. When the tire marks begin to emerge, dab a sponge or cloth in the mixture and rub it over the marks. To remove any residue, be sure to rinse your car with clean water afterward. If this approach fails to remove stubborn stains, try using a degreaser or all-purpose cleaner. These products can be applied directly onto the stain and wiped away after several minutes of soaking in. Again, make sure to rinse off any remaining product on your car when finished.
Image
Product
Details  
Price
Grab Green Stoneworks Laundry Detergent Pods
Brand: Grab Green
Item Form: Pods,Sheet
Unit Count: 80.0 Count
Material Type Free: Fragrance Free
Material Feature: Natural
Check Price
ON
AMAZON
3. Use WD-40
The multi-purpose lubricant WD-40 is capable of helping to remove of tire marks on vehicles. First of all spray some WD-40 on the troublesome area of your car, then let it stay for a few minutes, and then use a soft cloth to wipe away whatever remains. The lubricant will break down any dirt or grime that emit the residue, making it simpler to remove. Before wiping away the residual liquid, you might need to gently scrub stains that are more difficult to remove using a brush or other abrasive pad. After removing all of the tire marks, rinse off any remaining WD-40 and dry the area thoroughly before applying wax or other protectants as necessary. This method should leave your car looking spotless without damaging its paint job.
Image
Product
Details  
Price
WD-40 Specialist Silicone Lubricant
Material: Foam
Brand: WD-40
Liquid Volume: 11 Fluid Ounces
Item Weight: 0.8 Pounds
Recommended Uses For Product: Lubricant
Check Price
ON
AMAZON
4. Use a Magic Eraser
Magic erasers are great for tackling tough cleaning projects, like removing tire marks on your car. A magic eraser should first be dampened with warm water and any surplus squeezed out before use. After that, use circular motions to gently rub the spot with the eraser until it disappears. Make sure to use only light pressure and don't scrub too hard as you may scratch the paint of your car. After rinsing off the residue with a damp cloth, dry off the area with a soft towel to prevent any streaking or spotting.
The results will be amazing; once you're finished, you won't even know that tire marks were ever there! Magic erasers can be used to clean other interior surfaces, including as carpeting and upholstered furniture, in addition to glass and windshields. Just be sure to follow the same safety measures while using them on these surfaces!
Image
Product
Details  
Price
Mr. Clean Magic Eraser
Brand: Mr. Clean
Item Form: Spray
Scent: Lavender
Unit Count: 12.0 Count
Surface Recommendation: Wall, Shower
Check Price
ON
AMAZON
5. Use Cloth and Mild Soap
Using cloth and mild soap is an effective method for removing tire marks from cars. It is crucial to properly wipe the automobile surface with a moist cloth before to beginning. This will aid in clearing away any dirt or debris that can obstruct the cleaning procedure.
After the car's surface has been cleaned, combine some water and mild liquid detergent in a bowl, then dip a soft cloth into the sudsy mixture. Gently rub the tire mark in circles until it begins to fade away. Avoid using excessive pressure when scrubbing to avoid scratching the paint of the car. If necessary, carry out this procedure numerous times to completely eliminate the tire mark. Finally, use plain water to rinse away any remaining soap residue, and then thoroughly dry with an additional clean cloth or microfiber towel.
Image
Product
Details  
Price
Amazon Basics Gentle & Mild Clear Liquid Hand Soap Refill
Item Form: Liquid
Skin Type: All
Brand: Amazon Basics
Material Feature: Paraben-free
Material Type Free: Triclosan Free
Check Price
ON
AMAZON
6. Use an Adhesive Remover
Tire marks and other difficult stains on autos can be removed with adhesive removers. Using an adhesive remover, which is easily accessible at any auto parts store, is one of the most widely used techniques. Utilizing this merchandise is a rather easy approach. Use the adhesive remover directly on the stains after thoroughly cleaning the area with soap and water. Let it sit for a time to dry. After this time has passed, you can wash away any lingering filth and then clean the mark with a soft-bristled brush or sponge.
Before washing the surface of the car, you can try using a steel wool pad or fine sandpaper for additional friction if you discover that specific places are extremely difficult to remove. Make sure to use light pressure when scrubbing so as not to damage your vehicle's paint job or finish! Once finished, simply wash off any remaining residue from your car and enjoy having clean tires again!
7. Use Racing Rubber Remover
Tire markings on an automobile can be effectively removed using racing rubber remover. This functions by giving a potent mixture of solvent and emulsifier that break the oils and greases present in rubber tires and make them easily wipeable. Simply apply the solution directly to the problem area, leave it sit for a few minutes, and then remove it with a damp cloth or brush. This procedure may need to be repeated numerous times to completely remove tire markings from particularly difficult to reach areas. Additionally, if you have any chrome or aluminum parts on your vehicle, be sure to avoid applying racing rubber remover directly onto them as it can cause damage. Instead, lightly spray some water onto the area first before applying any product.
8. Use clay bar
A clay bar is one of the best instruments for removing tire markings from automobiles. The paint surface can be cleaned by using clay bars, which are manufactured from a synthetic material. You must first wash the automobile with soap and water to remove any dirt or grime before using a clay bar. When the car is clean, lubricate it by misting it with water or cleaning spray. Then you can rub the clay bar over the area with tire marks in small circular motions until they have been removed.
9. Use automotive polish
Another cleaning solution for removing tire marks is using an automotive polish designed specifically for tires. This product contains ingredients that help to break down grease and other materials that may have become embedded in your car's paint job due to tire contact. Simply apply this product directly onto the affected area, then buff it out with a microfiber cloth or buffer until all residue has been removed.
Image
Product
Details  
Price
Chemical Guys GAP
Brand: Chemical Guys
Material: Ceramic
Grit Material: Ceramic
Item Dimensions LxWxH: 2.4 x 0.12 x 2.28 inches
Grit Type: Light
Check Price
ON
AMAZON
10. Use rubbing compound
Finally, you can also use rubbing compound to remove stubborn tire marks from your vehicle's paint job. Rubbing compound is an abrasive cleaner which should be used sparingly on cars since it can damage delicate surfaces if not applied correctly. Apply some of this product onto a soft towel and gently rub it into the affected area in small circles until all traces of tire marks have disappeared.
Prevention Techniques
Maintaining a clean car is one of the best ways to avoid problems. Regular car washing and waxing help protect the paint from impurities that could cause tire marks. The price to remove tire markings from a car depends on a number of variables, including what kind of material the automobile is made for and how bad the tire marks area. Remain that make sure to regularly check the pressure of your tires. Low tire pressure will result in unnecessary tire sidewall wear and tear, which can cause slippage or skidding when you make sharp turns at fast speeds. Additionally, be cautious when driving to prevent tire markings from being left on the outside of your automobile. Avoid forceful braking and excessive acceleration.
Conclusion:
In conclusion, there are numerous factors that might generate tire marks on an automobile, but despite of the the source, they don't have to remain. You can quickly get away of tire marks on your car by using the directions that are provided in this article without investing a lot of money or time. Remember to use chemical treatments correctly and in line with their instructions if you plan to use them to remove tire markings.
FAQ
How much does it cost to remove tire marks from a car?
The kind of material employed for constructing a tire and the seriousness of the marks may impact the amount it costs to have it removed from an automobile. Tire markings are typically expensive to remove since they require both manpower and resources like specialty cleaners or waxes. To completely restore the car's surface, it can also be essential to repaint certain areas of the vehicle.
Can tire marks be removed?
It is important to give considerable thought to the intriguing subject of whether tire markings may be eliminated. After an automobile hits an asphalt or another paved surface, tire prints are a common physical remnant that is left behind. Here are several ways to get rid of these marks, based on the substance which was used in those areas and the kind of tires which were being produced at that point in time.
How long does it take for tire marks to go away?
Depending on numerous climatic and environmental factors, the process of tire markings disappearing normally takes a long time. Tire marks fade away at a different rate depending on the weather, the type of soil, and how much sunlight is exposed because of the complexity of rubber's chemical structure and physical characteristics. Tire marks typically require anywhere from a few days to a few weeks to entirely erase.
Does wd-40 remove tire marks?
The multi-purpose lubricant WD-40 can be used extensively in a wide range of purposes. Alongside other things, it is frequently used as a permeating oil, a moisture remover, and a corrosion inhibitor. It can be determined that the response to the issue of whether WD-40 eliminates tire imprints from hard surfaces is yes.
The Next Road (thenextroad.com) is an affiliate of the Amazon Services LLC Associates Program, so you can access the Amazon marketplace when on this domain. We will earn a commission from your qualified purchases.