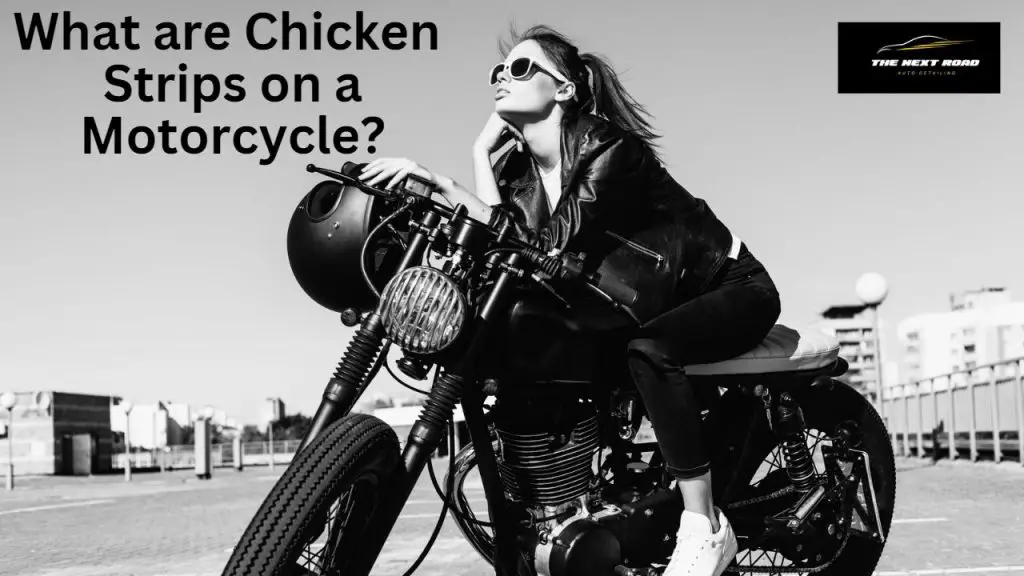 What are chicken strips on a motorcycle tire? Here you will learn clear idea about it. Every rider should be familiar with some terms and ideas regarding when it relate to motorcycle tires. One such term is "chicken strips." If you're new to riding motorbikes or have never heard the term "chicken strips on a motorcycle tire," and you might be unsure of what it means.
We shall define chicken strips on a motorbike tire and discuss why they are significant for riders in this article. Therefore, read on for a deeper understanding this interesting term whether you're an expert motorcyclist and you are looking to brush up on your knowledge or someone new looking to get into the world of motorbikes.
What do chicken strips on tires mean?
Chicken strips on a motorcycle tire refer to the untouched or less-worn portion of the tread, typically seen as a narrow strip along the outer edges of the tire. These strips are created when riders refrain from leaning their bikes into turns and instead ride with a more upright posture. The term "chicken strips" refers to the lack of assurance that riders with these strips have when negotiating curves and corners.
The rider's skill level, bike type, road circumstances and personal riding preferences can all affect the width of chicken strips. For novice riders or those lacking experience in cornering techniques, wider chicken strips are often observed. On sportier motorcycles designed for aggressive lean angles, experienced riders tend to have narrower or even nonexistent chicken strips due to their proficiency in taking corners at higher speeds.
What causes chicken strips?
Chicken strips on a motorcycle tire refer to the visible strip of unused tread along the edges of the tire. These strips appear when riders fail to lean their bikes into corners, causing the outer edges of the tires to remain untouched by the road surface. Several factors contribute to chicken strips, including rider skill and experience level. Novice riders tend to have larger chicken strips as they may be hesitant or lack confidence in leaning their bike into turns.
Another factor that causes chicken strips is tire pressure. If a motorcycle's tire pressure is too low, it can result in reduced traction and stability while cornering, leading riders to avoid leaning too far into turns. Additionally, the type of tire used can influence chicken strip size. Sporty or track-oriented tires typically have softer rubber compounds that provide better grip when leaned over, resulting in smaller or even non-existent chicken strips.
Read More: What is the Best Lens Car Photography
Importance of addressing chicken strips
Addressing chicken strips is crucial for several reasons. Firstly, it indicates whether or not a rider is utilizing their motorcycle to its full potential. Larger chicken strips suggest that the bike isn't being leaned over enough during corners, which can affect handling and overall performance.
Moreover, addressing chicken strips is essential for safety purposes. A significant amount of unused tread can reduce traction and stability when taking turns at higher speeds. By regularly checking and minimizing chicken strips, riders ensure that their tires have optimal contact with the road surface, enhancing grip and maneuverability.
Lastly, addressing chicken strips also promotes proper riding technique. It encourages riders to practice leaning into corners correctly while understanding their bike's capabilities better. By acknowledging and actively reducing chicken strips, motorcyclists become more confident in their abilities and improve their skills on the road, ultimately leading to a safer riding experience for both themselves and others sharing the road with them.
Tips for reducing or eliminating chicken strips
While they may not directly affect the performance or safety of your ride, reducing or eliminating chicken strips can improve overall handling and increase confidence while taking curves.
One effective tip for reducing chicken strips is to gradually push yourself out of your comfort zone by starting with smaller lean angles and progressively increasing them over time. This allows you to build up your confidence and develop a better understanding of your bike's capabilities.
Another helpful strategy is finding empty parking lots or closed-off areas where you can practice cornering techniques, such as counter steering and body positioning, without any distractions or potential hazards.
Additionally, it is important to regularly check and maintain proper tire pressure. Underinflated tires can prevent optimal traction during cornering, making it difficult to lean confidently into turns and reduce chicken strips effectively.
Myths and misconceptions about chicken strips
One of the common myths surrounding chicken strips on a motorcycle tire is that they indicate a rider's lack of skill or experience. Chicken strips refer to the untouched portions of the tire's edges, which can occur when riders lean their motorcycles less aggressively into corners. However, having chicken strips does not necessarily mean that a rider is inexperienced or lacks skill. There are various factors that can contribute to the presence of chicken strips, including road conditions, type of bike, and personal preference for riding style. We have described about it above also.
Another misconception about chicken strips is that they directly correlate with safety. Some believe that smaller or non-existent chicken strips indicate superior handling and better traction. While it is true that aggressive cornering can lead to reduced contact area with the road surface, resulting in less available grip, this does not automatically imply increased danger. The amount of lean used by individual riders depends on their comfort level and risk tolerance. It is crucial to remember that each rider has their own riding style and preferences when it comes to cornering techniques.
How do you get chicken strips off motorcycle tires?
Removing chicken strips from motorcycle tires is a common concern among riders. Chicken strips are areas of unused rubber on the outer edges of the tire that can indicate that the rider hasn't fully utilized the tire's grip capabilities while cornering. Some riders consider chicken strips as a sign of inexperience or lack of skill. While removing chicken strips entirely may not be necessary, here are a few tips to reduce them:
Improve Riding Technique: One of the most effective ways to reduce or eliminate chicken strips is by improving your riding technique. This involves becoming more comfortable with leaning the bike into corners and gradually increasing your lean angle over time. Taking motorcycle riding courses or seeking guidance from experienced riders can provide valuable insights and help develop better cornering techniques.
Choose Appropriate Tires: The type of tires used on your motorcycle affects how easily chicken strips appear. Sport-oriented tires tend to have softer compounds, which stick better to the road and allow for greater lean angles. If you frequently ride aggressively on winding roads, using sport-oriented tires can help minimize chicken strips.
Maintain Proper Tire Pressure: Maintaining optimal tire pressure is crucial for achieving consistent performance and reducing excessive wear on specific areas of the tire. Overinflated tires can cause decreased contact patch, making it challenging to utilize the entire surface area effectively during cornering.
Gradually Increase Lean Angles: Instead of immediately pushing yourself to reach extreme lean angles, it is recommended to progressively increase your lean angle as you gain confidence and experience on your motorcycle. Gradual progression allows you to improve your skills while reducing risk.
Analyze Road Conditions: Before attacking each corner, consider factors that could affect grip levels such as gravel, wet road conditions, or debris on the pavement. Being aware of these potential hazards helps maintain control and reduces changes in lean angles mid-corner.
Track Days and Practice Sessions: Participating in track days or practicing cornering techniques in a controlled environment can be beneficial for refining your riding skills. On a track, you can experiment with higher lean angles under safe conditions and develop better control of your motorcycle.
Consistent Body Positioning: Maintaining correct body positioning while cornering plays a significant role in maximizing available traction. Proper weight distribution and maintaining an active riding style can help improve stability and overall bike control during turns.
Frequently Asked Question
What does no chicken strips mean?
"No chicken strips" refers to having no unused or unworn portions of rubber on the outer edges of a motorcycle tire. When riders have successfully ridden their motorcycles to the edge of the tires, it means they have effectively utilized the full contact patch and explored the limits of their bike's handling capabilities.
How big should chicken strips be?
The size of chicken strips on a motorcycle tire can vary depending on the type of riding and personal preference. In general, smaller or no chicken strips are considered ideal by many motorcyclists as it indicates that the full contact patch of the tire is being utilized during cornering. 
What is the white thing in chicken strips?
The white strip often seen in chicken strips is not a separate component but rather a visual representation of the part of the tire that has not made contact with the road surface. When a motorcycle leans into a turn, the majority of the tread surface comes in contact with the road, leaving a narrow strip on each side that remains clean and shows no signs of wear. It appears as a white strip because it is less exposed to dirt, grime, and rubber residue than the rest of the tire.
Do you have to flip chicken strips?
In the context of motorcycle tires, "flipping chicken strips" typically refers to the process of wearing down the unused portions of the tire's surface. This can be achieved by leaning the motorcycle further into turns, thereby increasing contact between the tire and the road. By consistently riding with proper technique and gradually pushing your own limits, you can reduce or eliminate chicken strips over time.
Conclusion What are Chicken Strips on a Motorcycle?
In conclusion, chicken strips on a motorcycle tire are the areas of unused tread on either side of the tire's center. These strips are often indicative of a rider's level of confidence and skill in leaning the bike into turns. It's crucial to put safety above looks, even though some riders might see chicken strips as a badge of valor that can be eradicated by extreme cornering. Motorcycle riders must be aware of their personal limitations and ride within their comfort zone in order to stay in control and avoid accidents. Therefore, let's focus on improving our skills and enjoying the action of riding instead of worrying on the size of our chicken strips.
The Next Road (thenextroad.com) is an affiliate of the Amazon Services LLC Associates Program, so you can access the Amazon marketplace when on this domain. We will earn a commission from your qualified purchases.