What causes tire cupping? Get the answers and appropriate reasons now and find solutions to extend your tire's lifespan and ensure a safer ride. We hope you will get a proper knowledge in here. Read our full article then comment.
What is tire cupping?
Tire cupping, also known as scalloping, is a form of irregular tire wear. It's characterized by high and low spots that form in a cup or scallop-like pattern across the tread of the tire. These uneven patches cause vibrations and a loud humming noise when driving. It's often a sign of suspension problems or other mechanical issues such as wheel imbalance or improper alignment.
What causes tire cupping?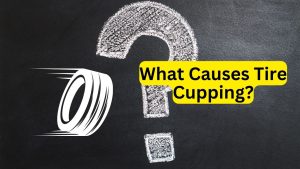 1. Improper wheel alignment:
Wheel alignment isn't just about ensuring your car keeps a straight path; it's an integral factor in preserving tire longevity and avoiding cupping. Improper wheel alignment, one of the commonly overlooked auto issues, could set off a frenzy of irregular tire wear patterns such as cupping or scalloping. This happens when your car's wheels are not adjusted to the correct angle as per manufacturer specifications, forcing tires to rub against the road surface unevenly.
Now think of driving hundreds, maybe thousands of miles with those misaligned wheels – every additional mile exacerbates the damage! Not only does this decrease fuel efficiency, but increased friction from the skewed contact also speeds up tire degradation leading to faster cupping. What's concerning is that you may not notice any significant drivability problems initially. However, your best tires are silently bearing the brunt while they rapidly degrade in unique cup-like hollows. To put it succinctly – improper wheel alignment is not just harmful; it can potentially lead to dangerous driving conditions if left unchecked for long periods.
2. Faulty suspension parts:
One often overlooked culprit of tire cupping is faulty suspension parts. These elements are extremely critical, as they bear the entire weight of your vehicle, helping smoothen out bumps and maintain good road contact. Even a minor issue can transform into significant damage if not addressed promptly.
Struts or shock absorbers in bad condition, worn-out ball joints and crumbled rubber bushings – all contribute to an unstable ride leading to uneven tire wear or cupping. This largely unnoticed criminal can cost you substantial sums in excessive fuel usage and frequent tire replacements. Yet it's preventable—with regular car maintenance and attention to irregularities such as steering wander or an abnormally bumpy ride, you can nip these suspension issues right in the bud before your tires pay the price.
3. Imbalanced tires:
Imbalanced tires can be the hidden culprits behind tire cupping that we often overlook. Tire imbalance basically means that the distribution of mass within the tire, or between the tire and wheel assembly, is not uniform, causing uneven wear. Rubber meets road unevenly when one section of your tire is heavier than another – this arguably straightforward instance goes on to contribute to a serious problem: Tire cupping.
The twists and turns of everyday driving exacerbate this situation further – 'lightweight corners' lift off from ground contact during rotation while 'heavyweight spots' bear excessive brunt. This ironically minuscule imbalance adversely affects your suspension system over time and leads to irregular tread wear; hence branding an invitation for tire cupping. To stay ahead, using wheel weights can achieve balance – a simple preventative step with profound impacts in preserving your many journeys ahead.
4. Incorrect tire pressure:
Poorly inflated tires can be a clandestine adversary contributing to tire cupping. Like we need the right amount of Oxygen to breathe, tires too require an optimal amount of air pressure to perform at their best. An over-inflated tire is much like a pumped-up basketball, bouncing around and making less contact with the ground, thus causing uneven wear. The wear usually takes on a scalloped pattern: this is the notorious cupping.
On the flip side, under-inflation exerts excessive pressure on the tire's sidewalls, causing them to flex beyond their design parameters. This forces your tread to dish out more effort by hitting the road at odd angles instead of in comprehensive uniformity. Thus over time, it triggers peculiar wear patterns often resultant in dreaded cupping. Prevention? Regular and accurate tire pressure checks never fell off anyone's car-chores list!
Read More: How To Remove Tire Marks From Car?
What causes tire cupping on rear tires?
Tire cupping on rear tires can be caused by several factors:
1. Wheel Misalignment: Axles and steering systems that are not aligned properly may lead to uneven tire wear.
2. Damaged or Worn Suspension Components: Faulty shock absorbers and other suspension parts contribute to unbalanced motion, causing the tread to make inconsistent contact with the road.
3. Improper Tire Balancing: Tires need to be balanced adequately for uniform pressure distribution. Unbalanced tires make specific parts of the tire suffer more stress than others which can cause cupping. 
4. Inadequate Tire Rotation: Regular rotation aids in even wear distribution across all four tires.
5. Overloading vehicle: Adding too much weight on the vehicle puts excess pressure on the tires leading to premature and irregular wear.
What causes tire cupping wear?
Tire cupping wear can be caused by several factors:
1. Wheel Misalignment: Improper alignment can cause uneven wear, leading to patterns such as tire cupping.
2. Faulty Suspension Components: A damaged suspension system could lead to uneven road contact and result in tire cupping.
3. Imbalanced Tires: Tires that aren't balanced properly place more pressure on certain areas than others, causing irregular wear such as tire cupping.
4. Insufficient Tire Rotation: Without regular rotation, tires do not share the vehicle's load equally resulting in disproportionate wear patterns.
5. Over or Under Inflation: Incorrect tire pressure contributes to poor tire performance and abnormal tread wear like cupping.
What causes tire cupping ford f550?
Ford F550 owners may notice a phenomenon known as tire cupping – an uneven wear pattern that looks like scallops or cups dug out on the surface of your tires. One prevalent cause particular to this model is improper wheel alignment. The Ford F550, due to its sturdy design and continuous handling of heavy loads, is often at risk for misaligned wheels, which can lead to the vehicle's weight being distributed unevenly across the tire tread, instigating abnormal wear or cupping.
Another intriguing but less recognized factor involves shocks and suspension elements in the F550. Yes, your vehicle's suspension dynamics could be secretly encouraging tire cupping. Every time you hit a bump or pothole, worn-out shock absorbers fail to manage tire rebound properly resulting in patches of your tires momentarily losing contact with the road surface. This minor inconsistency can prompt irregular wear over time leading up to manifestations of dreaded cupping patterns on your heavy-duty truck's tires.
The Next Road (thenextroad.com) is an affiliate of the Amazon Services LLC Associates Program, so you can access the Amazon marketplace when on this domain. We will earn a commission from your qualified purchases.