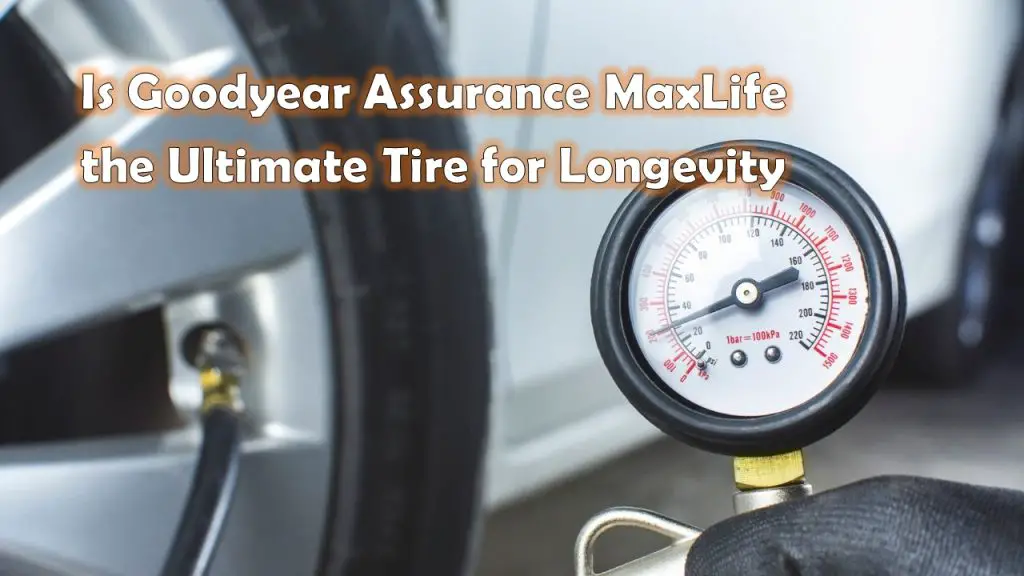 Is Goodyear Assurance MaxLife the Ultimate Tire for Longevity. Get reviews, comparisons, and expert advice on selecting the right tire.
Longevity is frequently a major concern when choosing tires for your car. Nobody wants to continually buy new tires and spend more money than necessary after all. Goodyear Assurance MaxLife is a tire that claims to offer exceptional longevity, making it an appealing option for drivers looking for a reliable and long-lasting tire. But is the Goodyear Assurance MaxLife truly the ultimate tire when it comes to longevity? In this article we're going to look more closely into a well-known tire and assess how well it keeps up over the years.
Goodyear Assurance MaxLife – What is it?
The Goodyear Assurance MaxLife is a tire designed for drivers who prioritize longevity and safety on the road. With a tread life warranty of up to 85,000 miles, the Assurance MaxLife offers superior durability compared to other all-season tires in its class. This tire was engineered with several innovative features such as TredLife Technology that optimizes the tread pattern for longer wear and Wet Traction compound that enhances grip on wet roads.
Features of Goodyear Assurance MaxLife tires
A premium all-season tire with a number of features for drivers seeking lifespan and durability is the Goodyear Assurance MaxLife. Here are a few of this tire's prominent features:
Long-lasting tread: The Assurance MaxLife features a longer lasting tread compound than most other tires in its class. By minimizing the frequency with which you need to replace your tires, this enables the tire to maintain its grip and handling qualities for a longer period of time which can ultimately save you money.
Comfortable ride: The tire's improved contact patch effectively distributes pressure throughout the tread surface to improving ride comfort and lowering road noise.
All-season performance: The Assurance MaxLife is designed to perform well in all weather conditions, with strong traction on dry, wet, and even light snow-covered roads.
Reduced stopping distance: The tire's IntelliGrip Technology helps ensure shorter braking distances by providing excellent traction and control on both wet and dry roads.
Fuel efficiency: The Assurance MaxLife is constructed with a low rolling resistance design which can help improve fuel efficiency and reduce emissions compared to other tires in its class.
Effective water evacuation: The wide circumferential grooves on the tire allow for quick water evacuation from under the tire, improving wet-road handling performance.
Warranties: Customers can feel confident with Goodyear's 85,000-mile tread life warranty as well as their Total Confidence Plan – which includes free tire replacement coverage within one year or first 2/32-inch of wear (whichever comes first), roadside assistance for two years, and a limited treadwear warranty for six years or 85,000 miles (whichever comes first).
Overall, drivers can expect reliable performance from their Goodyear Assurance MaxLife tires due to its long-lasting tread life, superior grip in all kinds of weather conditions, comfortable ride, and excellent warranties.
Comparison with Competitors tires
There are many options on the marketplace as it comes to selecting the best tire for your car. New Year's Insurance Due to its great performance and long-lasting durability, MaxLife is a preferred option among car owners. When settling on a choice it's wise to evaluate the tires of many rivals.
One such competitor is Michelin Defender T+H, which offers excellent traction in wet conditions and provides a smooth ride. Its unique tread pattern ensures that the tire wears evenly over time, providing extended mileage. Another worthy competitor is Continental TrueContact Tour, which boasts impressive fuel efficiency and reduced road noise levels.
Customer Feedback and Ratings
Customers play a significant role in shaping the reputation of a product through their feedback and ratings. The Goodyear Assurance MaxLife tire is no exception, as it boasts an impressive rating on multiple online platforms. Customers have appreciated its resilience to weather changes, overall performance, and lifespan.
In comparison to other brands they have previously used, many consumers reported being able to get more miles out of these tires. They also praised the tires for how well they handled slick surfaces and offered a comfortable ride even at high speeds. Additionally, customers noted that the Assurance MaxLife was relatively quiet on highways, which made for a comfortable driving experience.
However, some customers reported issues with tread wear or uneven wear patterns after prolonged use. Others reported that these tires had lower fuel efficiency than alternative options available on the market. Although this tire has been criticized, many customers still praise it for its dependability and durable performance on the road.
Frequently Asked Question
How many miles does Goodyear Assurance MaxLife last?
The answer varies on a number of variables, including driving patterns, road conditions, climate, and maintenance procedures. However, if properly maintained and cared for, Goodyear Assurance MaxLife tires may often last up to 80,000 miles or more. This comes as a result of the tire's distinctive construction which includes a compound improved by silica and a unique tread pattern that offers great traction in all weather conditions.
Are Goodyear MaxLife tires good in snow?
Yes, Goodyear MaxLife tires are a great choice for snowy conditions. Our special tread design helps provide superior traction on wet and icy roads, so you can feel confident in your vehicle's ability to handle the elements. Plus, our advanced rubber compound helps reduce the risk of hydroplaning and improves braking performance. So whether you're driving through a snow-covered city or taking a winter road trip, Goodyear MaxLife tires will help keep you safe and secure.
How often should Goodyear tires be replaced?
When Goodyear tires get worn or damaged, they should be changed. The frequency of replacement is influenced by a number of variables that including the kind of vehicle you drive, how frequently you travel and the local road conditions.
We recommend that you have your tires reviewed every six months or 6,000 miles (whichever comes first) so you can get the most use it. Company technicians will look for tread wear and other indications of damage that could need to be repaired during this examination. Any tire that is discovered to have excessive wear should be replaced right away.
Conclusion of Is Goodyear Assurance MaxLife the Ultimate Tire for Longevity
In conclusion, for individuals looking for long tire life, the Goodyear Assurance MaxLife tire is unquestionably a wise buy. This tire provided with an 85,000-mile treadwear warranty that is long-lasting and performs admirably on both dry and rainy roads. Additionally, it is an excellent choice for drivers who reside in places having a variety of weather conditions due to its all-season versatility.
Although the Goodyear Assurance MaxLife tire may cost higher than some other options on the market, consumers ultimately save money over time by avoiding frequent replacements due to its lengthy lifespan.
Additionally, this tire's cutting-edge technology enables even wear and tear over the course of its lifespan, guaranteeing consistent performance until it needs to be replaced. All things considered, buying the Goodyear Assurance MaxLife tire is a smart move for individuals who want to get the most out of their car's tires while simultaneously emphasizing reliability and safety on the road.
The Next Road (thenextroad.com) is an affiliate of the Amazon Services LLC Associates Program, so you can access the Amazon marketplace when on this domain. We will earn a commission from your qualified purchases.