Learn the top 10 methods on how to polish aluminum wheels! Get your car, bike, or boat looking great and shiny with our easy-to-follow steps. Every vehicle lover has to do the essential task of polishing aluminum wheels. It not only improves the way your car looks overall, but it also protects the wheels from corrosion and rust.
We'll go over the top 10 ways to efficiently polish aluminum wheels with you in this article. These methods went through extensive testing and research to make sure they deliver outstanding results without damaging your wheels. So whether you're a first-time or experienced detailer, keep reading to learn the finest techniques for returning the shine to your aluminum wheels!
Why polishing aluminum wheels is important?
The wheels are one of the most important components in defining how your car will look altogether when it comes to glances. For this reason, aluminum wheel polishing is necessary. It not only enhances their visual appeal but also protects them from damage caused by road grime, brake dust, and other harmful contaminants. Polishing removes these contaminants and restores the shine of the wheels.
However, how do you clean aluminum wheels? There are many options that ranging from basic to advanced ones provided by professionals. The wheels must first be properly cleaned to remove any dirt or debris that may have accrued. After completing this, you can start using a polish made specifically for aluminum surfaces.
Read More: What test should be performed on abrasive wheels?
Materials needed
For polishing aluminum wheels you'll need a bucket of water, a brush with soft bristles, aluminum polish, a microfiber cloth or towel and a polishing wheel. The wheels must be thoroughly washed before the wheel polishing process starts. Use a soft-bristled brush & a pail of water to wash away any accumulation of dirt or grime from the wheels.
Preparing the wheels: Wash and dry before polishing
Aluminum wheels must be properly prepped before any polish is applied in order to produce the best results. You should first carefully wash and dry your wheels. This stage is essential because it gets rid of debris that could cause the polish to leave marks on the outer layer. To thoroughly clean your wheel use a soft-bristled brush and a mild detergent.
Once washing the wheels and give them a good rinsing with water to get rid of any residual soap or cleaning chemical. After that, completely dry each wheel with a microfiber towel. Ensure that the surface is free of any water spots or streaks, since these could obstruct the polishing procedure and leave ugly stains on your recently polished aluminum rims.
Polishing methods: Hand polishing vs machine polishing
There are two primary techniques for polishing aluminum wheels: hand polishing and machine polishing. Hand polishing entails physically buffing off any scratches or flaws on the wheel's surface using a cloth or sponge and polish. The amount of pressure that is applied may be precisely controlled using this procedure, which is time-consuming but doesn't require any specific tools.
Machine polishing, on the other hand, entails utilizing an electric buffer or polisher to rapidly remove scuffs and bring out a high gloss on aluminum wheels. This method is much faster than hand polishing, but requires more skill and experience to avoid damaging the wheel surface. In addition, compared to the simple cloths and polish products used in hand polishing the machine polishers can be expensive investments.
In the end, both approaches offer advantages and disadvantages depending on the individual and level of experience. Hand polishing may take longer but provides more control for beginners while machine polishing offers fast results with proper technique mastery. whatever the technique you select, polishing your aluminum wheels properly that will improve their appearance and increase their lifespan.
Step-by-step guide on How To Polish Aluminum Wheels?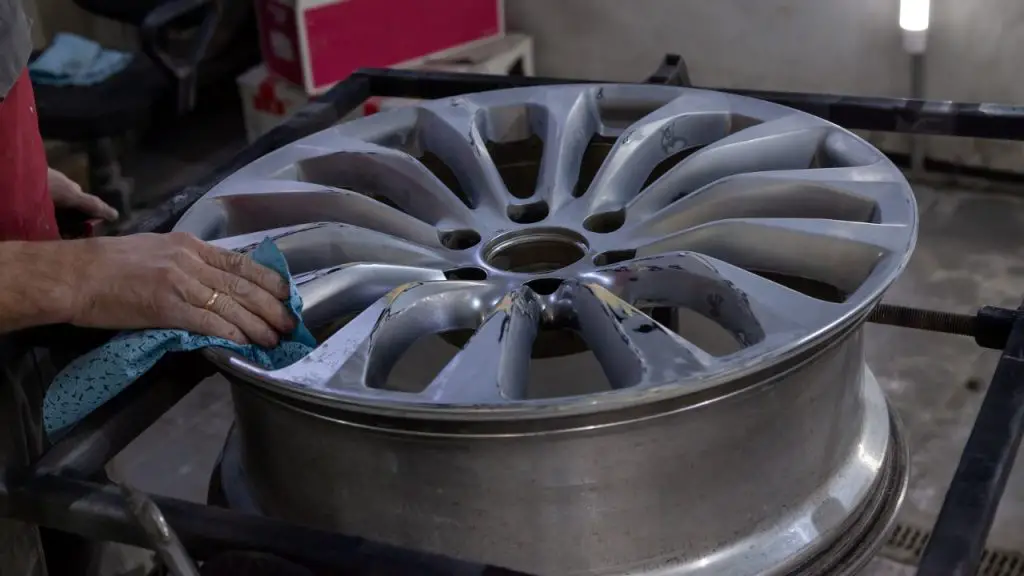 Here are the 10 best method of polishing aluminum wheels:
1. Start by using a pressure washer to wash away dirt and grime from the wheels.
2. Then, use a non-acidic cleaner to clean the wheels. You can use dish soap mixed with water or a specialized wheel cleaner for this purpose.
3. Clean the wheels thoroughly with a soft-bristled brush, paying special attention to crevices and challenging to reach places.
4. Use a towel or microfiber cloth to dry the wheels completely.
5. Apply a high-quality metal polish on your wheels using soft cloth or auto buffer but avoid hitting your car's paintwork as much as possible.
6. Rub the polish into the aluminum using firm pressure and circular motions until it is evenly applied.
7. Let the polish sit on the surface of the wheel for several minutes.
8. Buff off the excess polish using a clean, dry towel or microfiber cloth.
9. If necessary, repeat steps 5-8 until you achieve a desired level of shine on your aluminum wheels.
10. To keep your polished aluminum wheels looking fantastic over time and to guard against oxidation and other environmental damage, apply a layer of protectant like wax or sealant to finish.
You should be able to maintain your aluminum wheels sparkling like new with just a little elbow grease if you keep these suggestions in mind.
Expert tips for achieving a flawless finish
It can be difficult to achieve a faultless finish on aluminum wheels, but with the appropriate advice and techniques, you can succeed. First and foremost, it's crucial to pick the appropriate polishing chemical for your wheels. You can opt for an aggressive compound if your wheels have deep scratches or a mild compound if they have minor blemishes.
Next, make sure you properly clean your wheels before you begin polishing it. To clean the wheels surface of any filth or dirt use soap and water. After that, dry them with a microfiber cloth before applying polish.
It is preferable to polish aluminum wheels in modest increments as opposed to attempting to finish them all at once. This keeps you from missing any locations and helps you concentrate on one region at a time. Finally, carefully rub polish onto the surface of the wheel using a soft cloth or buffer pad until you obtain the desired finish.
Final Thought
In conclusion, there are various effective methods for polishing aluminum wheels, be it with a specialized polish or household items. To get the greatest results when cleaning and polishing your wheels, it's critical to follow the correct procedures. When using chemical polishes, keep in mind to put on safety gear and work in a space that is adequately ventilated. Your wheels will continue to look brand-new and polished with routine maintenance. Select the approach that works best for you and give your aluminum wheels the care they require.
The Next Road (thenextroad.com) is an affiliate of the Amazon Services LLC Associates Program, so you can access the Amazon marketplace when on this domain. We will earn a commission from your qualified purchases.