If you think how to get a motorcycle license in California? We'll walk you through each step and prerequisite in this post so you may get your California motorcycle license. So get ready to set out on a fantastic journey to obtain your California motorcycle license.
Why motorcycle license in California is important
Getting a motorcycle license in California is important for several reasons:
1. A legal prerequisite
California law prohibits riding a motorcycle without the appropriate license. You may ensure compliance with the law and avoid consequences like fines, tickets, or even having your motorcycle seized by getting a motorcycle license.
2. Security
If you not done correctly, riding a motorcycle can be dangerous. You can prove that you've completed the necessary instruction and testing by obtaining a motorcycle license that certifies that you are qualified to ride a motorcycle safely on the road. Accident and injury risk is lowered as a result.
3. Enhanced Skills and Knowledge
To obtain a motorcycle license in California, you need to pass both written and practical tests, which cover traffic laws specific to motorcycles, riding techniques, and safety practices. These requirements help improve your skills and knowledge about operating a motorcycle safely.
4. Insurance Requirements
Motorcycle insurance coverage often depends on having a valid motorcycle license. Without the proper license, you may face difficulties obtaining insurance or be limited to expensive policies with minimal coverage.
5. Access to Specialized Routes
Some areas offer special routes or lanes exclusively for motorcycles or designated as "motorcycle only" during certain times of the day. Having a valid motorcycle license allows you to take advantage of these shortcuts, potentially saving time during your commute.
6. Community Participation
Obtaining a motorcycle license allows you to join various motorcycling communities and clubs that organize group rides, events, and charity fundraisers dedicated to motorcyclists. Being part of these communities can enhance your overall experience as a rider.
7. Employment Opportunities
A valid motorcycle license gives you access to more job prospects if you intend to work in a sector that demands knowledge of motorcycle operation (such as courier or ride-sharing services).
8. Motorcycle Rentals
Sometimes, when traveling or simply wanting to try out different motorcycles before making a purchase, rental services require riders to hold a valid motorcycle license before renting their bikes.
9. Personal Satisfaction
Getting a motorcycle license is an accomplishment in itself and can provide a sense of personal satisfaction and pride. It opens up possibilities for adventures, freedom, and exploration on two wheels.
10. Skill Development
You must develop crucial abilities including balance, coordination, and spatial awareness in order to get a motorbike license. Even if you don't ride a motorbike, these transferrable skills can help you become a more skillful and careful driver by improving your general driving prowess.
Read More: What is The Best Cars for Mountain Driving?
Requirements for obtaining a motorcycle license
1. Age: (You must be at least 16 years old to apply for a motorcycle license.) 2. Learner's Permit 3. Knowledge Test 4. Vision Test 5. Skills Test 6. Proof of Identity 7. Driver Education Completion (if under 18) 8. Application Fee
Step by step guide on how to get a motorcycle license in California: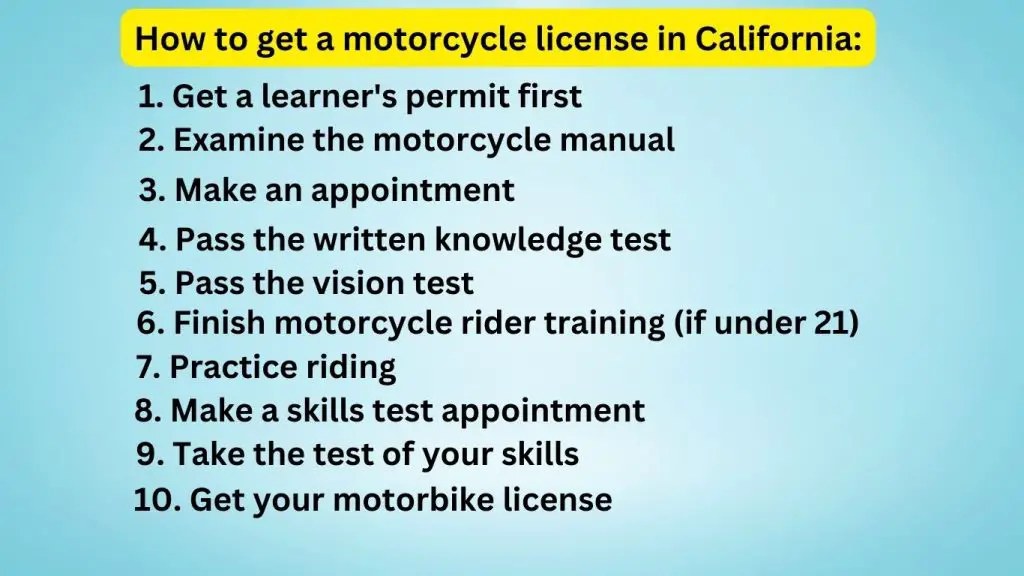 1. Get a learner's permit first
 Even if they attend a motorcycle training program that has been recognized by the California Highway Patrol and satisfies all requirements, It is remember that anyone under the age of 18 cannot obtain a learner's permit.
2. Examine the motorcycle manual
The California Motorcycle Handbook which is available on the DMV website, you must be read. This guidebook includes important laws, regulations, and safe riding practices.
3. Make an appointment
To make an appointment for your written test, go to the DMV website or dial their customer service number.
4. Pass the written knowledge test
Go to your nearby DMV office on the designated date and pass the written knowledge test. Your knowledge of motorcycle legislation and safe riding techniques will be assessed by the test. Bring proof of identity, your Social Security number as well as enough cash to cover the exam's fee.
5. Pass the vision test
Following your triumph on the written examination you will take your vision test to see if it satisfies the requirements.
6. Finish motorcycle rider training (if under 21)
If you are under 21, you must have pass the motorcycle skills exam at a DMV office or finish an approved Basic Rider Course (BRC).
7. Practice riding
It is strongly advised that those who are not needed to finish rider training practice riding before completing the skills exam. This will make sure you are confident and capable of riding a motorcycle safely.
8. Make a skills test appointment
Once you're comfortable with your riding capabilities, make a skills test appointment for the motorcycle using the DMV website or customer care line.
9. Take the test of your skills
Bring all required paperwork, including as identification documents, Social Security numbers, rider training completion certificates (if applicable), and testing fee payment, to your appointed appointment. You will be judged on your capacity to exhibit appropriate control and handling of a motorcycle during the skills exam.
10. Get your motorbike license
Congratulations if you pass both the skills test and the written knowledge test. You can now apply for a California motorcycle license by submitting your learner's permit.
Steps to submit your application for a motorcycle license
While filing an application for a motorcycle license in California can appear challenging, with the correct data, it can be a straightforward process. The initial step is to get a DL 44, Application for a Driver License or Identification Card, from your nearby Department of Motor Vehicles, or DMV, office. Make sure to fill all required fields correctly and legibly because any mistakes or omissions might impede the processing of the application.
Gather all the documents you'll need to include with your application next. These usually consist of identifying documents, such as a valid passport or birth certificate, Social Security documentation and two ways to demonstrate residence. Due to their unpredictable nature, these rules must be confirmed beforehand on the official DMV website.
Make a time to bring your application to your local DMV office once you've finished it and got the necessary paperwork. Although some offices are open to walk-ins, scheduling an appointment beforehand guarantees that you won't have to wait in long queues and can expedite the process. All costs required for processing your application ought to be brought with you.
The Next Road (thenextroad.com) is an affiliate of the Amazon Services LLC Associates Program, so you can access the Amazon marketplace when on this domain. We will earn a commission from your qualified purchases.