How much does it cost to wrap a motorcycle? We hope you will get a clear idea in here. The cost of wrapping a motorcycle we will give full information in detail in this article and we give along with an estimate of how much you will be paying for this exciting alteration. We also know the benefits of wrapping a motorcycle as well as DIY vs professional motorcycle wrapping.
What is motorcycle wrapping?
In the world of motorcycling, motorcycle wrapping is a common trend that provides a special method to personalize and safeguard your motorcycle's appearance. It entails wrapping the entire bike in vinyl, which can be created with different colors, patterns, or even graphics. The process includes meticulously applying the vinyl wrap to every contour and curve of the motorcycle using heat guns and squeegees to ensure a smooth and seamless finish.
Benefits of wrapping a motorcycle
There are several benefits to wrapping a motorcycle:
Protection: A vinyl wrap can act as a protective barrier for your motorcycle, shielding it from damage caused by weather, UV rays, scratches, and small debris like rocks and dirt.
Personalization: When wrapping your motorcycle, you can alter its appearance to reflect both of your particular style and preferences due to wide variety of color and styling options available
Simple Maintenance: Compared to conventional paint jobs the vinyl wraps are simple to clean and maintain. There is no need to worry about destroying the designs and finish by cleaning them with water and mild soap. Additionally, it is easy to replace any broken or damaged portions of the wrap without having to completely repaint the motorcycle.
Cost-effective: Getting a full paint job for your motorcycle can be expensive. In general, wrapping your bike is more economical than traditional painting methods because it takes less time and work. Additionally, you can easily remove the wrap and install a new one without spending a fortune if you later decide you prefer a different design.
Resale Value: A well-maintained vinyl wrapped motorcycle has the potential to retain its resale value better than one with a worn or faded paint job. If you decide to sell your bike in the future, having an eye-catching wrap may attract more potential buyers who appreciate unique customization options.
Reversible: Unlike paint, vinyl wraps are reversible. If you ever decide that you no longer want a wrap or want to change up the design, it can be removed without leaving any residue or damage on the underlying surface of your motorcycle.
Advertising Opportunity: For businesses or individuals who use their motorcycles for advertising purposes, wrapping offers an excellent opportunity for mobile branding. Custom graphics and logos can be applied to promote products or services effectively while on the road.
Temporary Modification: Wrapping your motorcycle allows you to experiment with different looks and styles without a long-term commitment. Whether it's for a special event, race, or even just for fun, you can easily change the appearance of your bike by applying and removing wraps as desired.
Increased Visibility and Safety: Applying reflective or high-visibility wraps to your motorcycle can enhance its visibility on the road, especially during nighttime rides or in poor weather conditions. This additional visibility can contribute to improved safety while riding.
It's worth noting that while motorcycle wrapping offers numerous benefits, it is important to have the wrap installed by professionals who have experience working with motorcycles. They will ensure that the wrap is applied properly and fits seamlessly over curves and contours, resulting in a high-quality finish.
Read More: How To Remove Tire Marks From Car?
Factors that affect the cost of motorcycle wrapping
The cost of motorcycle wrapping can vary based on several factors:
Size and complexity of the motorcycle: Larger motorcycles or those with intricate designs will require more material and effort to wrap, which can increase the cost.
Type and quality of vinyl: The price of vinyl wraps varies depending on the brand, type, and quality. High-quality vinyl might be more expensive but offers better durability and longevity.
Design and customization: If you choose a custom design or unique graphics for your motorcycle wrap, it may require additional design work or specialized printing techniques, which can affect the overall cost.
Surface preparation: The condition of your motorcycle's surface before wrapping can impact pricing. If extensive cleaning, sanding, or repairs are needed to ensure a smooth application surface, it may increase costs.
Professional installation: Hiring professionals to install the wrap guarantees a high-quality finish but comes at an additional cost. DIY installations are possible but require skill and experience.
Additional services: Some providers offer extra services like removal of existing paint or graphics, clear coat applications, or protective coatings that can add to the overall expense.
Location: Prices for motorcycle wrapping can also vary based on geographical location and local market rates.
Each factor influences the overall cost of motorcycle wrapping, so it's important to consider your budget and specific requirements before deciding on a service provider.
Average cost of motorcycle wrapping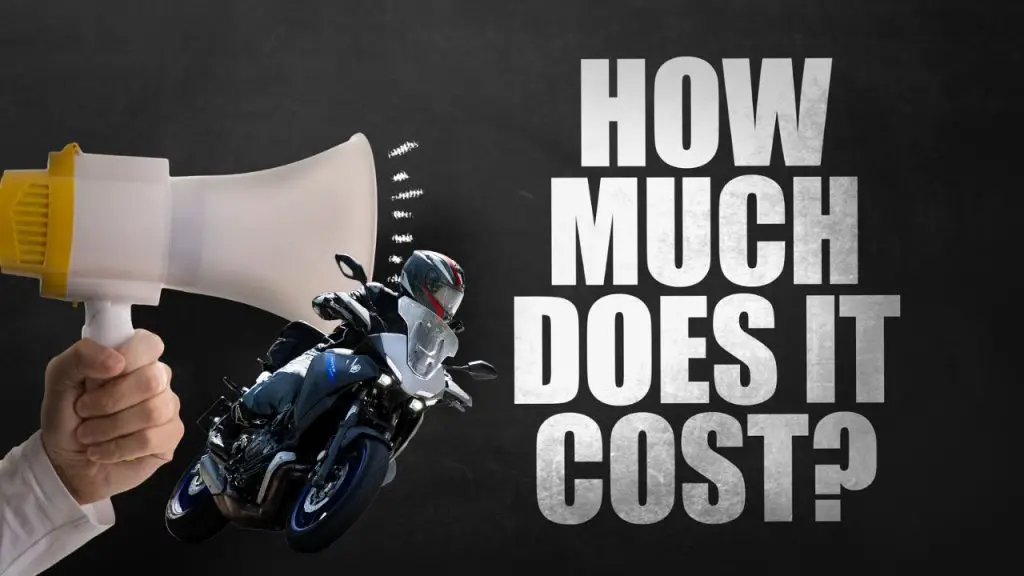 The size of the motorcycle and the degree of design complexity as well as the type of material used are a few factors that can determine how much motorcycle wrapping generally costs. On average price range could from $500 to $2,000. It is crucial to remember that costs can change significantly between various places and service providers. To acquire a more accurate quote for your unique demands, it is advisable to get quotes from multiple vendors.
Additional costs to consider
There are various other elements to consider when estimating the price to wrap a motorcycle.
First and foremost, the motorcycle's size and complexity might have a significant impact on the final price. Larger bikes or those with intricate designs may require more material and labor, leading to higher expenses.
Another consideration is whether you want a full or partial wrap. A full wrap covers every surface of the bike, including fairings, tank, fenders, and other components.
Lastly, it is crucial not to overlook any hidden costs associated with motorcycle wrapping such as removal fees if you already have an existing paint job that needs to be stripped off before applying vinyl wraps.
DIY vs professional motorcycle wrapping
You have the choice of DIYing (do-it-yourself) or hiring a specialist when it comes to motorbike wrapping. Each choice has benefits and drawbacks of its own.
DIY motorcycle wrapping:
| | |
| --- | --- |
| Pros | Cons |
| Cost-effective: DIY wrapping can be more budget-friendly as you save on labor costs. | Skill and expertise required: Wrapping a motorcycle requires precision and skill to ensure a smooth and seamless finish. |
| Creative freedom: You can choose your own design and customize it according to your preferences. | Equipment and tools: You need to purchase or rent the necessary equipment and tools for the job, which can be an additional expense. |
| Learning experience: If you enjoy learning new skills and are up for a challenge, DIY wrapping can be a rewarding experience. | Time-consuming: DIY wrapping can take longer as you navigate through the process step-by-step. |
Professional motorcycle wrapping:
| | |
| --- | --- |
| Pros | Cons |
| Quality craftsmanship: Professional wrap installers have experience in handling various motorcycles and ensure a high-quality finish. | Higher cost: Hiring professionals for motorcycle wrapping is generally more expensive than doing it yourself due to labor costs. |
| Time-saving: Hiring professionals will save you time as they are experienced in the process and can complete it efficiently. | Limited creative freedom: While professionals can still work with your design ideas, their expertise may limit certain customizations compared to doing it yourself. |
| Expert advice: Professionals can offer guidance on design choices, recommend materials, and provide suggestions based on their knowledge of industry trends. | |
Ultimately, choosing between DIY or professional motorcycle wrapping depends on your personal preferences, budgetary constraints, level of skill/confidence in tackling the task yourself, and desired outcome. If you're inexperienced or want a flawless finish, professional installation may be the best route to take. However, if you enjoy hands-on projects and have the necessary skills, DIY wrapping can be a cost-effective and rewarding option.
Is motorcycle wrapping worth the cost?
Depending on your preferences and situation, you may decide that is motorbike wrapping is worth the money? Here are some ideas to consider:
Appearance: Motorcycle wrapping can significantly enhance the appearance of your bike. It enables you to alter the color, style and finish of your motorcycle that giving it a distinctive and striking appearance.
Protection: A high-quality wrap can shield the paintwork of your motorcycle from dings, chips, and UV deterioration. It acts as a protective barrier against environmental elements such as sunlight, rain, and dust.
Resale value: Wrapping your motorcycle can help maintain its resale value by preserving the original paint job underneath. A well-maintained wrap can be easily removed if desired, revealing a pristine paint finish that can attract potential buyers.
Versatility: Motorcycle wraps offer a wide range of design options and finishes that allow you to express your personal style and taste. You can choose from various colors, patterns, textures, and even specialty effects like matte or chrome finishes.
Cost savings: Compared to a full paint job, wrapping is generally more affordable. It also provides an opportunity to change the look of your motorcycle without the need for expensive repainting or modifications.
Reversibility: Unlike permanent changes like repainting or modifications, motorcycle wraps are temporary and reversible. Without making significant long-term changes to your bike, the wrap can be readily removed if you decide that no longer wish it or are interested in attempting a new style in the future.
However, it's vital to take into consideration some possible disadvantages:
Initial cost: Even though re-wrapping is usually cheaper than repainting, there is still a starting price related to it, depending on the quality of the supplies used and the labor required if employing a professional installation.
Skill level required: DIY installation requires some level of skill and patience for achieving a clean and seamless result. Mistakes during installation could lead to an inferior finish or the need for professional correction.
Durability: While high-quality wraps are designed to be durable and long-lasting, they may not be as resistant to certain types of damage as a well-applied paint job. Scratches from sharp objects or abrasions from harsh cleaning chemicals can potentially damage the wrap.
Limited lifespan: Due to wear and tear, fading, or adhesive deterioration, motorcycle wraps may need to be replaced after a number of years. However, this is dependent on things like the material's quality and maintenance level.
Conclusion how much does it cost to wrap a motorcycle?
The scope and complexity of the design, the type of material used, along with whether you decide to do it yourself or employ a professional are a few variables that might affect the price of wrapping a motorcycle. A professional motorbike wrap might cost anywhere from $500 to $2000 or more in average. However, keep in that this is simply an estimate determined by typical costs; actual expenses may differ based on the earth and other factors.
You can save money on labor costs when you choose to take on the project yourself, however you also have to make a material along with tool expenditure. The cost of DIY ranges from $50 to $200 depending on which the caliber of the materials included.
While wrapping a motorcycle may come with upfront costs that many riders find it worth the investment due to the benefits it offers. Wrapping provides a cost-effective way to change the appearance of your motorcycle without having to undergo expensive paint jobs or modifications. It also offers protection against scratches, UV rays, and other elements.
Ultimately, whether or not motorcycle wrapping is worth the cost is subjective and will depend on your personal preferences and budget. If maintaining your bike's aesthetic appeal and protecting its original finish are important to you, then investing in professional wrapping or embarking on a DIY project may be worthwhile.
The Next Road (thenextroad.com) is an affiliate of the Amazon Services LLC Associates Program, so you can access the Amazon marketplace when on this domain. We will earn a commission from your qualified purchases.