It is important to understand why do spare tires have higher PSI? Many individuals might not be aware that the spare tire often has a greater psi (pounds per square inch) rating than the regular tires. This is so that they can function properly, as spare tires are made differently and need a different amount of pressure. In this article, we'll talk about the reasons behind spare tires' higher psi than normal tires and how this impacts performance in general.
What is Spare Tire PSI?
Spare Tire PSI (Pounds per Square Inch) is a unit of measurement used to describe tire air pressure. It is determined by measuring the force that the air that circulates inside the tire applies on each square inch of its inner surface using a tire pressure meter. Tires that are properly inflated provide optimal performance, fuel economy, and vehicle safety; as a result, spare tire PSI readings should comply with manufacturer's recommendations for the best possible vehicle performance.
Why Do Spare Tires Have Higher PSI?
Since spare tires are meant merely for infrequent use, they need more air pressure than conventional tires. By doing this, you can be sure that the tire will be able to hold and stabilize the added weight of the extra passenger or load. The extra air also helps the tire maintain its shape and prevents it from flattening out under pressure. Additionally, higher psi helps reduce the possibility of a flat tire due to excessive heat buildup on long journeys.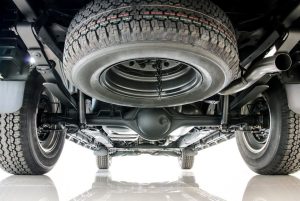 The PSI (pounds per square inch) of spare tires is typically higher compared to that of standard tires because the following reasons:
1. Compactness
In order to conserve space, spare tires are made to be smaller than conventional tires. These tires are filled with higher pressure, often between 60 and 80 psi, to make up for their smaller size, which enables them to keep appropriate form and withstand the weight of the vehicle.
2. Temporary use
Spare tires are designed to be used in the interim while a permanent tire replacement is being considered. They are not designed for long drives or extended usage. The higher pressure helps reinforce their structural strength and stability during temporary operation.
3. Load bearing capacity
Spare tires must be able to support the weight of the vehicle when used as a replacement tire. By maintaining high PSI levels, they can handle the load without becoming excessively compressed or causing handling issues.
4. Emergency situations
When encountering a flat tire or tire failure on the road, spare tires serve as emergency backups. The high-pressure design ensures that they can quickly provide support and allow the driver to continue traveling until reaching a safe location or getting professional help.
5. Limited functionality
Unlike regular tires, which undergo extensive testing and development to meet various performance requirements, spare tires often have limited functionalities. Their main purpose is to provide basic mobility rather than delivering optimum comfort or performance characteristics.
It is important to note that while spare tires have higher PSI ratings than regular ones, it is crucial to consult your vehicle's manual for specific recommendations regarding their usage and inflation pressures.
Read More: How to Start a Tire Shop Business? 8 Step-by-Step Guide
Advantages of Higher PSI on Spare Tires
For several of reasons, a spare tire must be loaded at a higher pressure than regular tires. Firstly, a tire with higher PSI are more stable and has more grip on the road in general. This ensures that the car remains stable and safe while driving on wet or slick conditions, which is very crucial.
Additionally, having more air pressure implies that the tread and sidewalls of the tire will experience less abrasion, extending their longevity. Finally, running at higher PSI also makes it easier for drivers to maneuver around tight corners and navigate difficult terrain without compromising safety or comfort.
Disadvantages of Higher PSI on Spare Tires
A spare tire fitted on a vehicle usually has a higher pressure than the regular tires. This makes sure the motorist can get where they're going and yet have time to get a new tire. Greater stability and control on the road are provided by higher PSI, which also aids in reducing rolling resistance and maintaining optimum handling dynamics. Higher PSI in a spare tire does have certain disadvantages, though.
Because of the higher friction when interacting with the road surface, high-pressure spare tires has the tendency to wear out more quickly than ordinary tires. This implies that even if just a short distance has been covered using the spare tire, drivers may need to replace it more frequently.
In addition, they don't offer as much traction or grip as conventional tires do because they are only intended for emergency use, which can make driving challenging in slippery or rainy circumstances. They are also more prone to punctures from road debris, which can result in flat tires and necessitate fast assistance from roadside assistance services.
Important Considerations for Spare Tire PSI
To maintain the safety of your car, it is essential to have a spare tire with the appropriate PSI. Too little air pressure in a spare tire might make it insecure when driving, and could result in an accident. On the other side, if the PSI is too high, it might result in a more harsh ride and cause the rubber to wear out more quickly. Drivers should be aware of the PSI level at which spare tires should be inflated for these reasons.
Generally speaking, most spares need a higher psi than standard tires because they are smaller and lighter than the originals. This helps provide additional support and stability that would otherwise not be available with lower psi levels. Additionally, some manufacturers require higher psi for their spares due to their unique designs or materials used in construction. It's always best practice to refer back to your car's manual or contact customer service before changing out your spare tire's pressure so you know exactly how high it should be set at.
Conclusion:
In conclusion, of why do spare tires have higher PSI? spare tires are a crucial piece of safety equipment for road trips and other outings. Understanding why spare tires have a higher PSI than standard tires is crucial because it can keep you and other road users safe. Due to their smaller size and reduced weight, spare tires have higher PSI, which aids in providing a solid ride in crises. The extra pressure also increases their lifespan and helps them remain usable for longer periods of time.
FAQ
Why is a car's spare tire's recommended inflation pressure so high compared to the regular tires?
Answer: The recommended inflation pressure for a car's spare tire is typically much higher than that of the regular tires due to its limited use. The spare serves as an auxiliary tire in the event of an emergency, and therefore its optimized performance is paramount. As such, it must be able to sustain a greater load, and thus its inflation pressure needs to be higher.
The Next Road (thenextroad.com) is an affiliate of the Amazon Services LLC Associates Program, so you can access the Amazon marketplace when on this domain. We will earn a commission from your qualified purchases.