When you are behind a motorcycle you should take some important things. We are aware that it is essential to comprehend the factors involved in sharing something. Understanding how to handle this scenario properly as a responsible driver not only protects your personal safety but also helps to create a peaceful driving environment for everyone.
This article will discuss important rules and recommendations for drivers who are stuck behind a motorbike. It will offer insightful information that can promote mutual respect and understanding between cars and motorcycle riders. So buckle up, adjust your mirrors, and get ready to enhance your driving skills by learning how to share the road effectively with motorcycles!
Why it's important to know motorcycle safety
While riding a motorcycle can provide a distinct sensation of freedom and excitement, there are increased risks involved. For this reason, it is essential that all drivers comprehend motorcycle safety. Knowing how to share the road responsibly with motorcycles can prevent accidents and save lives.
Firstly, understanding the vulnerabilities of motorcyclists is essential. Unlike cars, motorcycles lack external protection like airbags and metal frames. A seemingly insignificant occurrence can occasionally have terrible consequences for motorcyclists, resulting in major injuries or even fatalities. Drivers are more inclined to give way to motorcycles and respect their right-of-way on the road when they are aware of this vulnerability.
Secondly, familiarizing oneself with motorcycle signals is crucial for safe driving practices. Motorcycles are small vehicles that often go unnoticed by other drivers due to their size or fast speed. This makes it imperative for motorists to pay attention to hand signals given by bikers indicating turns or lane changes. By recognizing these signals early on and adjusting one's driving accordingly, we can minimize the risk of colliding with motorcycles.
Read More: 5 Best Snowmobile Helmet With Heated Shield
When You are Behind A Motorcycle You Should remember these advice
Increase your following distance and stay alert
Increasing your following distance and staying alert when you are behind a motorcycle is crucial for both your safety and the safety of the rider. By maintaining a significant gap between your vehicle and the motorcycle, you allow yourself more time to react in case of sudden stops or changes in traffic conditions. Furthermore, this added distance ensures that any debris or road hazards kicked up by the motorcycle will have less impact on your vehicle.
Being alert goes hand in hand with keeping a safe following distance. Motorcycles are more flexible, smaller cars that can easily blend in with traffic or get obscured by bigger ones. Therefore, it is essential to closely observe and anticipate their actions while operating a vehicle. Additionally, scanning ahead and frequently checking your mirrors will enable you to identify potential risks early on and take appropriate action.
Watch for sudden lane changes
Watch for sudden lane changes. You should be aware of the surrounding of a motorcycle is one of the most important things and also to keep in mind when you're following one. Motorcycles can change lanes and places on the road quicker and easier than automobiles since they're more compact and nimble than cars. Because of this, it's imperative that you continually check your mirrors & remain alert for any abrupt moves or lane changes from motorbikes.
Why then is it so crucial? Actually, because of their size and susceptibility on the road, motorbikes have a greater accident rate. According to recent statistics, over 50% of motorcycle accidents occur collisions with other vehicles in reality. Keeping a watch out for these abrupt lane changes might aid in averting potentially disastrous incidents that may cause severe injuries or even fatalities.
Be cautious of blind spots
It's important to be conscious of your blind areas when driving behind a motorcycle. Motorcycles are smaller than cars and therefore more likely to be lost in the blind zones of bigger cars. Blind spots refer to areas around your vehicle that cannot be seen through side mirrors or rear-view mirrors. These blind spots pose a significant danger when driving alongside motorcycles, as they can lead to accidents or collisions.
To avoid this potential risk, regularly check your side and rearview mirrors for any motorcycles in your vicinity. Always make sure to properly adjust your mirrors before starting your journey. Additionally, do not rely solely on your mirrors; physically turn your head and glance over your shoulder to double-check for any motorcycles in your blind spot before changing lanes or making a turn.
Use your signals when passing or changing lanes
It is crucial to remember how important it's to use your signals when riding a motorcycle, passing or changing lanes. Small choices can have a major effects on both your own security and well-being as well as the health of the biker.
First of all, simply indicating what you want, the motorcycle rider can predict your next move. To keep themselves safe, they primarily depend on watching how other drivers behave on the road. You are giving them important information when you use your turn signals, which enables them to modify their position or speed appropriately.
Secondly, signaling when passing or changing lanes demonstrates respect for fellow road users. It shows that you acknowledge their presence and care about ensuring everyone's welfare. This simple act of communication fosters an environment of goodwill on the road, where everyone is more likely to be attentive and look out for each other's well-being.
Avoid tailgating and aggressive driving behaviors
Not only can tailgating and other aggressive driving behaviors be harmful, but they additionally render the road feel hostile and unpleasant. For a number of reasons, keeping an appropriate distance behind motorcyclists is crucial when driving responsibly.
Firstly, motorcycles have shorter stopping distances and quicker acceleration than cars, so tailgating could result in a serious accident with devastating consequences.
Secondly, by leaving ample space between your vehicle and the motorcycle ahead, you provide both parties with more reaction time to adjust to any unexpected situations that may arise.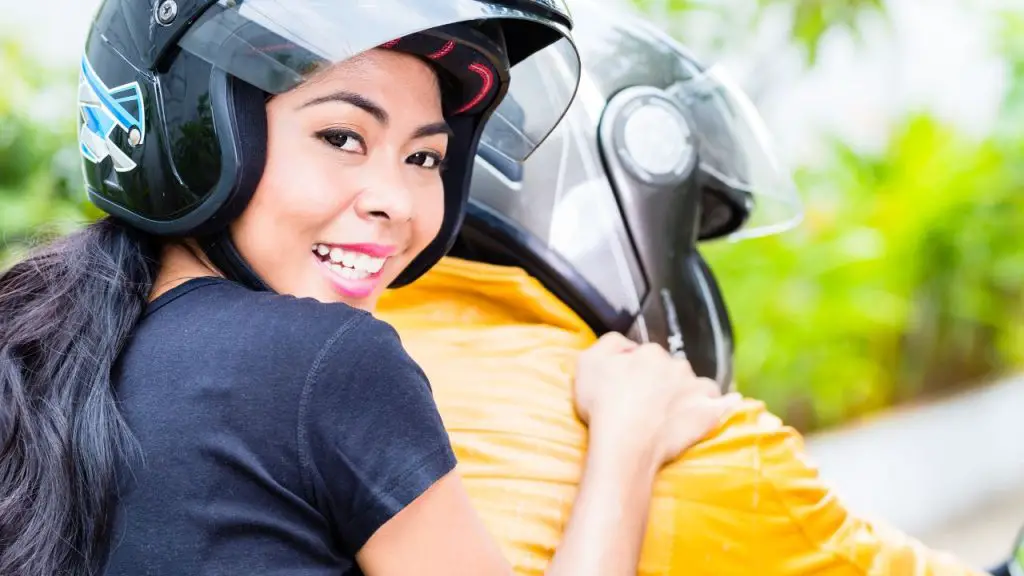 For more easily understanding we present in summary of when you are behind a motorcycle you should:
1. Maintain a safe following distance: Keep a minimum of 3-4 seconds of space between your vehicle and the motorcycle in front of you.
2. Be attentive: Pay close attention to the movements and signals of the motorcyclist to anticipate their actions and react accordingly.
3. Avoid sudden lane changing: Give motorcycles enough space when changing lanes, as they are smaller and more maneuverable than other vehicles.
4. Check blind spots: Always check your blind spots before changing lanes or making any maneuvers to ensure there are no motorcycles present.
5. Use your indicators and mirrors: Signal your intentions early, so motorcyclists have time to react. Regularly check your mirrors for any motorcyclists approaching from behind.
6. Don't tailgate: Avoid tailgating motorcycles, as they require additional stopping distance. Maintain a safe distance to allow them ample time to brake if needed.
7. Pass with caution: When passing a motorcycle, leave plenty of room and allow them enough space by moving completely into the opposite lane before passing.
8. Be aware of wind turbulence: Larger vehicles can create turbulence that can affect motorcycles, so be mindful when overtaking or passing motorcycles on highways or at high speeds.
9. Be patient and respectful: Motorcycles may need extra time or space on the road due to their size and agility. Show patience and respect their rights on the road.
10. Share the road safely: Respect motorcyclists as fellow road users by providing them with adequate room, adhering to traffic regulations, and constantly acknowledging their presence.
The Next Road (thenextroad.com) is an affiliate of the Amazon Services LLC Associates Program, so you can access the Amazon marketplace when on this domain. We will earn a commission from your qualified purchases.