Swedish car brands have a long history of being associated with innovation, dependability. If you are looking for car brands Sweden here you found all information. These automakers have received recognition from all over the world with their commitment to quality due to their sophisticated designs and innovative features included into their automobiles.
In this article we'll discuss some of the best car brands Sweden which have made an ongoing mark on the automotive market. These renowned Swedish automakers have something remarkable to offer for any discriminating motorist, whether you enjoy driving luxury vehicles or prefer pragmatism and efficiency. So have a seat and follow us as we explore Sweden's top examples of automotive greatness.
The significance of Swedish car brands
Car brands Sweden have significantly influenced the automobile sector and are known for their high standards of quality, inventiveness and safety. The importance of Swedish automakers can be summarized in the following important areas:
Safety: Swedish car manufacturers, particularly Volvo, have always been at the forefront of prioritizing safety. Three-point seat belts, collapsible steering columns, side-impact protection systems and cutting-edge driver assistance technologies are just a few of the safety advancements that Volvo is known for. They keep making significant investments in R&D to improve vehicle safety.
Innovation: Swedish car brands are known for their innovative engineering and design. They have achieved several revolutionary breakthroughs over the years. For example, Saab was instrumental in the development of turbo engines that increased both efficiency and horsepower. With improvements in electric and hybrid automobiles, Swedish automakers have also concentrated on environmentally beneficial efforts.
Quality: Swedish cars are known for their exceptional build quality and attention to detail. Brands like Volvo and Saab have consistently delivered well-engineered vehicles that offer comfort, durability, and longevity. Their commitment to crafting reliable automobiles has established strong trust among consumers worldwide.
Distinctive Design: Swedish car designs often stand out due to their minimalistic yet elegant aesthetics. Clean lines, functional interiors, and a focus on simplicity characterize many Swedish-made cars. This distinct design language has appealed to consumers who appreciate understated elegance.
Environmental Responsibility: Sweden has long been considered an environmentally conscious nation, and this value is reflected in its car manufacturing industry too. Companies like Volvo have proven their dedication to sustainability by committing to developing electric vehicles and setting ambitious goals to reduce carbon emissions across their supply chain.
Global Influence: Despite being a relatively small country in terms of population, Sweden's car brands have had a significant impact globally. Renowned for their reliability and safety features, Swedish cars have garnered a loyal following worldwide. They have played a critical role in shaping the automotive landscape and industry standards.
Motorsport Success: Swedish brands have also enjoyed success in motorsports, further enhancing their reputation and performance credentials. While Saab has achieved a great deal for rallies racing. Volvo has competed in the British Touring Car Championship (BTCC) with noteworthy success.
Overall, Swedish manufacturers had an ongoing impact on the auto industry. They now rank among some of the most reputable automakers in the world thanks to their dedication to environmental responsibility, safety, innovation and quality.
Read More: What is The Best Cars for Mountain Driving?
6 Best Swedish Car Brands List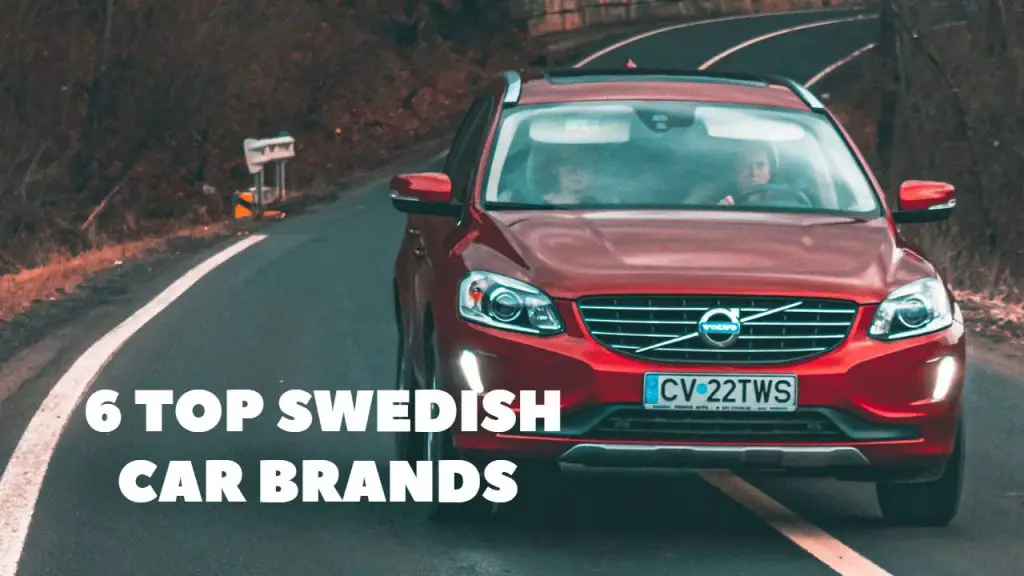 1. Volvo
2. Saab
3. Koenigsegg
4. Scania
5. Polestar
6. NEVS (National Electric Vehicle Sweden)
1. Volvo
Volvo, one of the top Swedish automakers, has a stellar reputation for both safety and innovation. Since 1927, the business has continually prioritized the security of its drivers and passengers by putting cutting-edge safety practices in place. The development of the three-point seatbelt and a safety breakthrough that has saved countless lives worldwide. Volvo has also taken the lead in the creation of cutting-edge technologies including blind-spot detection systems with autonomous driving capabilities.
Volvo has continually pushed boundaries through its cutting-edge designs over the years. They have successfully merged style and functionality, creating vehicles that are not only safe but also visually appealing. Another feature that distinguishes them from other car makers is their commitment to conservation. Volvo intends to have 50% of its sales be totally electric by 2025 and is making big investments in EVs. Due to its emphasis on green mobility solutions, Volvo is at the forefront of automotive innovation and promotes a better future.
2. Saab
Saab is one of the first Swedish car brands that comes to mind when considering of Swedish automakers. Saab vehicles are renowned for their remarkable performance and craftsmanship and they are currently regarded as a benchmark of excellence in the auto industry. The brand has a long history dating back to 1945 and has continually produced technologically advanced and inventive designs.
The importance Saab places on craftsmanship is one of the unique characteristics of the company. Each car is meticulously constructed with attention to detail, producing vehicles that are not only beautiful to behold upon that are also long-lasting. Every element of a Saab displays the brand's dedication to quality and accuracy, from the svelte external styling to the plush interiors.
Saab automobiles are renowned for both their exceptional performance and great craftsmanship. Whether it's due of its powerful engines or complex suspension systems, driving a Saab is a unique experience. The brand has a devoted following of customers who value both the thrilling driving characteristics and general dependability of these cars because of their drive to producing high-performance automobiles.
3. Koenigsegg
Koenigsegg is one of the most well-known Swedish car brand which pointed out for producing some of the most powerful and ostentatious supercars in the entire world. Koenigsegg's meticulous focus on details and commitment to development perfectly capture the spirit from Swedish engineering. Every Koenigsegg car is meticulously built, creating a masterpiece that melds performance, elegance and style.
The continuous quest of speed and power is what distinguishes Koenigsegg from other supercar producers. The brand has consistently pushed boundaries by introducing groundbreaking technologies such as FreeValve, a revolutionary camless engine system that improves fuel efficiency and performance. Furthermore, Koenigsegg's obsession with lightweight construction techniques ensures their cars are not only lightning fast but also agile on the road.
The dedication towards sustainability is another aspect that makes Koenigsegg exceptional among supercar manufacturers. Despite being associated with high-performance automobiles, the brand makes an effort to reduce its negative effects on the environment through a number of programs like employing recyclable materials and offsetting carbon emissions. It's understandable why Koenigsegg is regarded as the pinnacle of Swedish supercars given their unwavering dedication to excellence and environmentally conscious manufacturing practices.
4. Scania
Leading Swedish car brand is Scania that progressing significantly in the commercial vehicle sector. Scania has a long history that dates to the year 1891 & during that time it continuously enhanced as well as modified its goods in order in response to the changing needs of businesses across the globe. The company's dedication to environment is shown in the creation of electric and hybrid cars that help with a decrease in pollution as well as improved efficiency of fuel.
The emphasis Scania has placed on autonomous driving technology is one of its significant accomplishments. The business has been at the forefront of creating autonomous trucks, which aim to transform the transportation sector. Scania is creating the foundation for safer and more effective commercial vehicle operations by utilizing cutting-edge sensors, artificial intelligence, and networking technologies.
Additionally, Scania stands apart from other businesses in the industry due to its commitment to client satisfaction. To maintain peak performance and maximize uptime for its customers' fleets, the organization offers complete services like maintenance programs and driver training initiatives. These initiatives have helped Scania maintain its global leadership in commercial vehicles.
5. Polestar
Polestar is one of the top Swedish car brands that has recently gained popularity. Polestar, which is recognized for rethinking electric luxury vehicles, has established its position as a serious competitor in the market. Polestar provides a distinctive driving experience that combines performance, sustainability, and comfort with its svelte designs and cutting-edge technologies.
Polestar's dedication to sustainability is clear from the novel materials and production techniques they use. By employing recycled materials for interior components and applying sustainable procedures throughout their supply chain, they have significantly reduced their carbon impact. Additionally, Polestar's electric cars are built to be energy-efficient, helping to create a more environmentally friendly future.
Polestar is apart from other premium automobile manufacturers due to its commitment to performance. They have electric motors in their cars that are quite strong and provide excellent acceleration and maneuverability. Without sacrificing comfort or safety, the rapid torque and precision control ensure a thrilling driving experience.
6. NEVS (National Electric Vehicle Sweden)
One of the best Swedish car brands making waves in the industry is NEVS, which stands for Sweden National Electric Vehicle. This creative business has become well known for emphasizing the creation of sustainable, green electric automobiles. By offering innovative, environmentally friendly, and secure transportation options, NEVS seeks to transform the automotive sector.
In 2012, NEVS began its adventure by acquiring Saab Automobile, and ever since, the company has been committed to creating electric vehicles under the Saab brand. With the NEVS 9-3 all-electric sedan, their flagship model, they have achieved notable advancements in this field. Excellent features of the vehicle include quick charging and an all-electric range of up to 186 miles along with cutting-edge safety features.
Because to their dedication to conservation & innovative technology, NEVS has grown into an important player in the worldwide electric car marketplace, not just in Sweden. As more countries try to minimize carbon emissions and adopt renewable energy sources, NEVS is well-positioned to tackle the growing need for environmentally friendly transportation solutions.
Conclusion of Swedish car brands
In conclusion, Swedish car brands have established an image among themselves as the global leaders in the sector, famous for their creativity, reliability and sustainability. From Saab's revolutionary engineering and design to Volvo's commitment to electric vehicles, these automakers continue to push boundaries and redefine it takes to drive a luxury vehicle.
Swedish automobiles are made with a high emphasis on reliability and quality and are created to provide drivers with an unmatched driving experience. Whether you're searching for a stylish sedan or a roomy SUV, going with a Swedish automaker ensures style, performance and security. By selecting one of these outstanding automobile manufacturers, you can embrace the Swedish tradition of quality and improve your driving experience right now.
The Next Road (thenextroad.com) is an affiliate of the Amazon Services LLC Associates Program, so you can access the Amazon marketplace when on this domain. We will earn a commission from your qualified purchases.