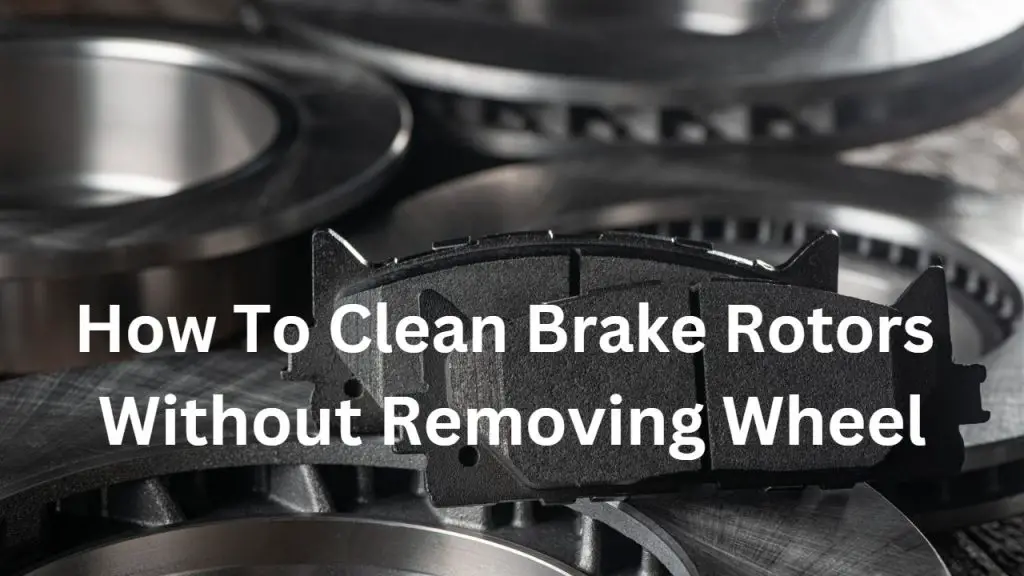 We'll look at how to clean brake rotors without removing the wheel, in this article. In order to allow your vehicle's braking system to function as its best, brake rotors must be kept in good condition. Brake rotors can accumulate dirt, debris, and other pollutants over time which may impair their performance.
If neglected, this accumulation may lower the effectiveness of your brakes or even require expensive future repairs. While taking off the wheel is frequently believed to be the only way to clean brake rotors, there are really a number of alternatives.
What is brake rotors?
Brake rotors, sometimes referred to as brake discs, are a vital part of a car's braking system that aid in slowing or stopping the car. These parts cooperate with the brake calipers and pads to generate friction between them, which slows the moving object down.
Brake rotors are available in a variety of sizes and forms depending on the make and model of the vehicle they are meant to protect and are typically constructed from cast iron or a composite material. The effectiveness and longevity of these components under varied driving situations are significantly influenced by the design & construction of these components. So it's essential to keep them clean and in good shape.
Materials Needed
There are specific tools you'll need to have on hand in order to clean brake rotors without taking the wheel off. You must first and foremost utilize a high-quality brake cleaner that is intended for use on automotive parts. This will enable your rotors to perform effectively by clearing away any accumulated grease and filth.
You might also want to spend money on a decent set of wire brushes or abrasive pads to scrub away any tough dirt in addition to the brake cleaner. A microfiber towel or shop rag can also come in handy for wiping down the rotor surface after cleaning.
Cleaning the Brake Rotors: Step-by-step instructions
Step 1: Secure the vehicle on a flat surface and engage the parking brake.
Step 2: Remove the wheel lug nuts using a lug wrench or impact gun and carefully remove the wheel from the vehicle.
Step 3: Locate the brake rotor behind the caliper, which is attached to it with bolts.
Step 4: Spray a specialized brake cleaner onto both sides of the rotor until it's completely soaked.
Step 5: Use a wire brush and apply moderate pressure to scrub away any rust or grime that has accumulated on its surface.
Step 6: Wipe down both sides of your brake rotors with a clean towel to make sure they are dry before replacing tires.
If you don't want to remove wheels, you can skip steps two and three and instead use a jack stand to lift one side of your car up at least four inches off of its wheels. This will give you enough clearance for cleaning without taking off wheels entirely.
Tips to Keep in Mind
There are specific safety measures that must be followed while cleaning brake rotors without removing the wheel. Wearing gloves and eye protection is crucial in the first place to prevent contact with any potentially dangerous substances or debris. Use a high-quality brake cleaner that was created especially for this purpose as well.
It's important to avoid oversaturating the brake rotor with cleaner because this could harm the car's other components. Remove any debris or dust from the rotor surface using a soft brush or cloth. Avoid using objects that can scratch or harm the rotor, such as steel wool or wire brushes.
Before putting your car back together after cleaning, check sure all leftover cleaner has been removed. By taking these steps, you can ensure safe and efficient cleaning without endangering you or the parts of your car.
Benefits of Regular Cleaning
The first thing on your list of tasks should be regular cleaning. It is essential for a number of reasons, including as maintaining a clean and hygienic living space, extending the life of your possessions and avoiding illnesses brought on by dust and other allergies. Additionally good for your mental health, keeping your house or office clean might help you feel happier.
When it comes to cleaning brake rotors without removing wheels, there are several benefits that come with regular maintenance. Firstly, it ensures that the brakes function efficiently and effectively. Regular cleaning helps remove any debris or dirt build-up on your rotors which can cause brake failure or make them less responsive when you need them most.
Secondly, regular cleaning can prevent costly repairs down the line. Brake rotors are expensive components of a vehicle's braking system, so keeping them in good condition through routine maintenance can help extend their life span. Lastly, regular cleaning prevents rust from forming on the rotor surface and extends the life span of both pads and discs which leads to better performance overall. Therefore, it's highly recommended to regularly clean brake rotors even if you don't want to remove wheels frequently.
Conclusion
In conclusion, cleaning brake rotors without removing the wheel is a simple process that requires minimal effort and no special tools. Whether you opt to use a specialized brake cleaner or household products such as vinegar or lemon juice, the steps are easy to follow.
Regularly cleaning your brake rotors will not only improve your vehicle's overall performance but also extend their lifespan. Remember to prioritize safety by using protective gear and avoiding contact with skin or eyes. With these tips at hand, it's time to give your brake rotors some much-needed attention and enjoy a smoother ride.
The Next Road (thenextroad.com) is an affiliate of the Amazon Services LLC Associates Program, so you can access the Amazon marketplace when on this domain. We will earn a commission from your qualified purchases.