In this post, we'll provide you practical advice on how to clean aluminum wheels effectively without risk damage. This guide will help you get perfect results every time, whether you're a professional detailer or just want to maintain your car looking its best at home. Cleaning aluminum wheels is not a difficult task if you know the right steps to follow.
Why cleaning aluminum wheels is important
Here are five key reasons on why cleaning aluminum wheels is important:
1. Appearance
Aluminum wheels are a popular upgrade on cars and trucks because they look great. But over time, road grime, dirt, and brake dust can build up on the wheels and detract from their appearance. Regular cleaning keeps them looking shiny and new.
2. Brake performance
Brake dust accumulates quickly on aluminum wheels, causing a layer of grime that can reduce your car's braking performance. The grit from brake dust can also cause corrosion on the wheels if not cleaned off regularly.
3. Corrosion prevention
Aluminum is an incredibly durable material, but it can be vulnerable to oxidation and corrosion if it's not properly maintained. Regular cleaning removes corrosive elements that accumulate from driving conditions over time.
4. Longevity
High-quality alloy or cast aluminum wheels have a long lifespan, but proper maintenance will extend their life even further. Cleaning aluminum wheels ensures that any buildup of harmful road debris won't harm the finish or integrity of the wheel structure.
5. Cost savings
Repairing or replacing damaged aluminum wheels can be expensive due to its intricate design and materials used in manufacturing. By maintaining aluminum wheels with regular cleaning, you can avoid costly repairs that could have been prevented in advance.
What Material Needed?
To accomplish the work properly when cleaning aluminum wheels, you'll need a few tools. You must first and foremost utilize a high-quality wheel cleaner made especially for use on aluminum rims. Any filth, grime, or brake dust that has formed on the surface of your wheels can be removed using this method.
You should also keep some microfiber towels or soft-bristled brushes on hand in addition to a wheel cleaner. With them, you can gently scrape away any last bits of dirt or debris without harming the finish of your wheels.
You might need the following supplies to clean aluminum wheels:
1. Wheel cleaner
2. Microfiber towel or sponge
3. Bucket of water
4. Soft-bristled brush or detailing brush
5. Wheel polish (optional)
6. Aluminum wax (optional)
How to prepare the wheels
Clearing away any loose dirt and debris is the first step in getting aluminum wheels ready for cleaning. For this, you may employ both a microfiber cloth & a soft-bristled brush. Ensure that everything that may have gotten stuck between the spokes and the wheels has been removed, including any dirt, gravel, and other debris.
The wheels should then be washed with water and cleaned using a specific wheel cleaner made for aluminum surfaces. Apply the cleaner evenly to all of the wheel's surfaces, paying close attention to any places that are particularly dirty.
After the cleaner has had a chance to do its job (about five minutes), completely rinse it off with clean water. If you have access to one, you might want to use a pressure washer for this step to make guarantee that all traces of the cleaner are eliminated from the wheel's surface. Finally, properly dry your rims with a clean cloth or chamois before waxing and polishing them.
Cleaning Process: Step-by-step instructions
Although cleaning aluminum wheels isn't difficult, it does need some care and perseverance. Making sure the wheel is cold before washing it is the first step. Applying water or cleaners to a hot surface will damage the finish, so avoid doing so. Next, use water to rinse out any loose dirt or debris. Here are 10 methods for cleaning aluminum wheels: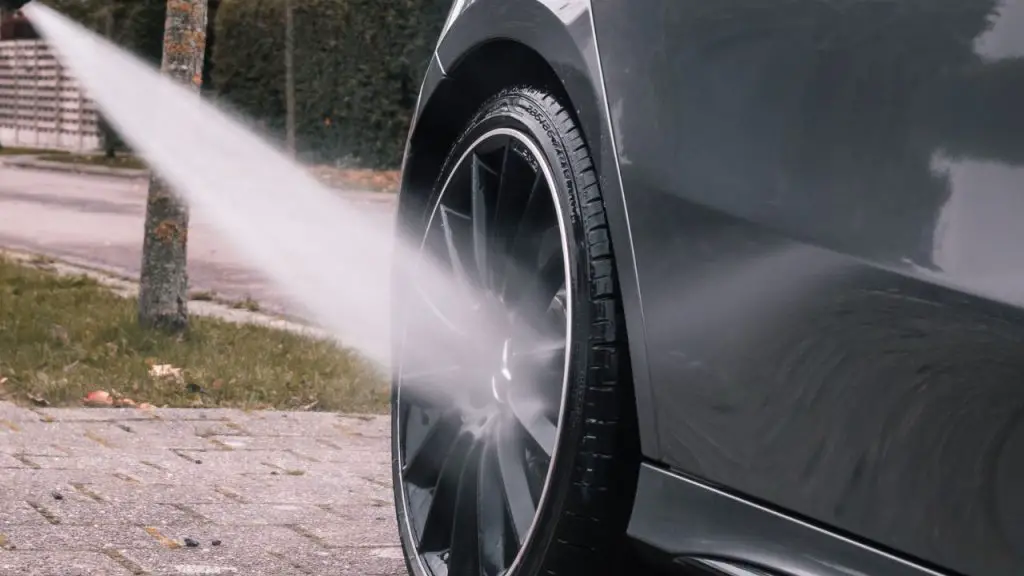 1. Soap and water: Use mild soap and warm water to clean aluminum wheels. Rinse the wheels thoroughly after washing.
2. Baking soda paste: Create a paste by combining baking soda and water. Use a cloth or sponge to apply the paste to the aluminum wheels' surfaces, then gently scrub and rinse.
3. Vinegar solution: Mix equal parts of white vinegar and water in a spray bottle, apply on the aluminum wheels and wipe off using a soft cloth.
4. Lemon juice: Cut a lemon in half, squeeze out some juice onto a cloth or sponge and rub it on aluminum wheels, then rinse off.
5. Aluminum wheel cleaner: Use an approved aluminum wheel cleaner available at automotive stores. For optimum results follow to the manufacturer's recommendations.
6. Pressure washer: Clean your wheels with a pressure washer to remove dirt, grime and brake dust buildup.
7. Non-abrasive metal polish: Use non-abrasive metal polish available at automotive stores to remove oxidation from your aluminum wheels.
8. Steel wool: Use fine-grit steel wool (0000) to buff out scratches or stains on your aluminum wheels.
9. Toothbrush: Use an old toothbrush to reach tight spaces on your wheel rims.
10. Professional detailing service: Consider hiring professional car detailers who have specialized equipment and products designed specifically for cleaning and polishing alloy wheels.
Polishing and Protecting: Finishing touches
The next step is to polish your aluminum wheels after cleaning and drying them. This can help bring back their luster and get rid of any dirt or grime that may be left. Apply a tiny amount of polish in circular motions to the surface of the wheel using a high-quality aluminum wheel polish and a soft microfiber cloth or polishing pad. Up until the desired level of shine, keep polishing.
After polishing your wheels, it's crucial to keep them safe from further harm. Applying a sealer or wax can aid in preventing corrosion from being accelerated over time by brake dust accumulation, grit from the road, and other environmental conditions. Before driving your car, use a clean microfiber cloth to apply a thin coat of sealer or wax and let it cure completely.
You can keep your aluminum wheels looking brand new for many years by using these easy procedures for cleaning, polishing, and protection.
Conclusion
In conclusion, maintaining the cleanliness of your aluminum wheels is crucial for both their longevity and look. Your wheels may be cleaned of grime and protected from buildup-related damage with just a few easy procedures. To prevent scratches and other damage, always clean your wheels using non-abrasive chemicals and soft towels. You can maintain your aluminum wheels looking brand-new for many years by using the advice in this article. So, this weekend, set aside some time to give your wheels the care they need; your automobile will appreciate it.
The Next Road (thenextroad.com) is an affiliate of the Amazon Services LLC Associates Program, so you can access the Amazon marketplace when on this domain. We will earn a commission from your qualified purchases.