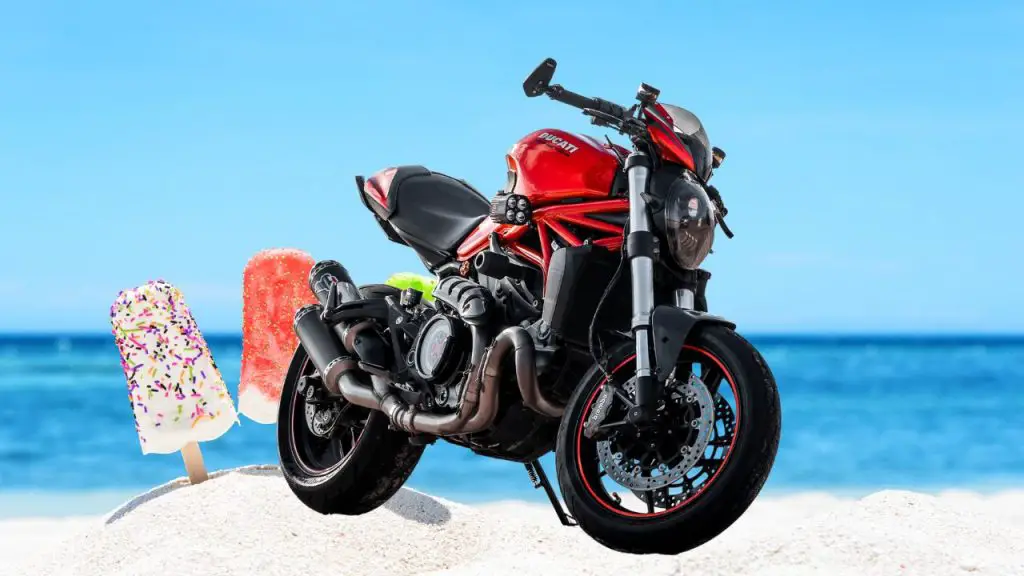 If your question arises, how much does a motorcycle weigh? We'll discuss each variable that impacts a bike's weight in this article.  We'll also provide a thorough analysis of average weights for various motorcycle models. Therefore, let's begin.
Factors that affect a motorcycle's weigh
The overall weight of a bike may vary on number of variables. Here are a few of the crucial components:
1. Engine Size
Any motorcycle's weight is potentially greatly impacted by the size and kind of its engine. Motorcycles with greater displacement engines are going to be more substantial since larger engines often weigh more than smaller ones.
2. Frame Composition
The motorcycle's weight can be affected by the frame's composition. Carbon fiber, steel, and aluminum are typical building materials. Aluminum and carbon fiber frames are lighter but may be more expensive, while steel frames are often heavier but offer more durability.
3. Accessories and Features
Additional accessories like extra storage compartments, fairings, windshields, and electronic features (such as navigation systems or heated grips) can add to the overall weight of a motorcycle.
4. Fuel Capacity
A larger fuel tank capacity for longer rides can increase the weight of a motorcycle.
5. Suspension System
The type and complexity of the suspension system on a motorcycle can affect its weight. Advanced suspension systems like inverted forks or adjustable shocks may weigh more due to additional components.
6. Exhaust System
The exhaust system plays a role in both performance and weight; certain aftermarket exhaust systems might be lighter than stock ones.
7. Wheels and Tires
Different wheel designs and tire choices can affect how heavy a motorcycle feels. Lightweight alloy wheels can reduce unsprung weight compared to traditional spoke wheels.
8. Design Philosophy
Some motorcycles are built for specific purposes like off-roading or long-distance touring which may require more robust construction resulting in increased weight compared to motorcycles designed for agility or speed.
9. Materials Used Throughout Construction
The choice of materials used for various components such as fenders, seat, body panels, handlebars, etc., will impact the overall weight of the motorcycle.
10. Manufacturing Methods
Modern manufacturing methods, as opposed to conventional welding or machining, allow for lighter yet stronger components through processes like casting or forging.
It's critical to remember that these elements may interact and affect how much a motorcycle weighs in total. To satisfy the requirements and expectations of various riders, manufacturers frequently work to strike a balance between weight, performance, and cost.
Read More: Do You Need A Motorcycle License for A Honda Grom?
Common weights of different types of motorcycles
The weight of motorcycles can vary significantly depending on their type. Here are the average weights for some common types of motorcycles:
1. Sport motorcycles: Sport motorcycles, which normally weigh between 350 and 500 pounds (160 to 227 kilograms), are noted for their light weight and agility.
2. Cruisers: With larger engine sizes and heavier frames, cruisers are geared for comfort and flair. Typically, they weigh up to 800 pounds (227 to 363 kilograms), sometimes even more.
3. Touring Bikes: Designed for long-distance travel, touring motorcycles have amenities like luggage compartments and plush seating. Due to the increased gear and attachments, they frequently weigh more, weighing between 700 and 1,000 pounds (318 and 454 kilograms).
4. Dual-Sport/Adventure Bikes: Motorcycles that can be used either on road as well as off-road are known as dual-sport or adventure bikes. Depending on the size and kind of engine it can weigh that ranging from 350 to 600 pounds (160 to 272 kilograms).
5. Standard/Naked Bikes: Standard or naked bikes are versatile motorcycles suitable for everyday commuting or occasional touring. Similar to dual-sport bikes, they typically weigh between 350 and 600 pounds (160 and 272 kg).
6. Mopeds and scooters: Smaller engines on lightweight scooters and mopeds make them easier to control and manoeuvre in crowded urban areas. A scooter or moped typically weighs between 200 and 400 pounds (91 and 181 kg).
It's important to keep in mind that these weights are approximations of averages because actual motorcycle weights might change depending on the manufacturer, model variations, available equipment, building materials, and specific bike combinations.
How weight affects performance and handling
The performance and handling of a motorcycle can be significantly impacted by its weight. In comparison to a lighter motorcycle, a heavier one often starts slower and needs longer to achieve greater speed. This is due the added weight causes the engine to operate harder, that could lead to an overall decrease in power manufacturing. In addition, the added mass has an impact on mobility, causing it to be more difficult for cyclists to make quick shifts in lanes or handle tight curves.
Furthermore, a motorcycle's handling is greatly influenced by its weight distribution. Stability and control may be harmed if the weight is not equally distributed, for as if it is overly front- or rear-heavy.
Final thought of how much does a Motorcycle weigh?
A motorcycle's weight may be influenced by a variety of elements, including the motorcycle's design, engine size and construction materials. Motorcycles often weigh between 200 and 700 pounds. Understanding how a motorcycle's weight affects the bike's movement, stability, fuel efficiency and overall efficiency is important for motorcyclists.
Potential consumers ought to think about their individual abilities and their previous expertise in selecting the motorcycle that best fits their demands. Put safety first whether you are a seasoned rider or a beginner by wearing the appropriate safety gear and using defensive riding methods.
The Next Road (thenextroad.com) is an affiliate of the Amazon Services LLC Associates Program, so you can access the Amazon marketplace when on this domain. We will earn a commission from your qualified purchases.