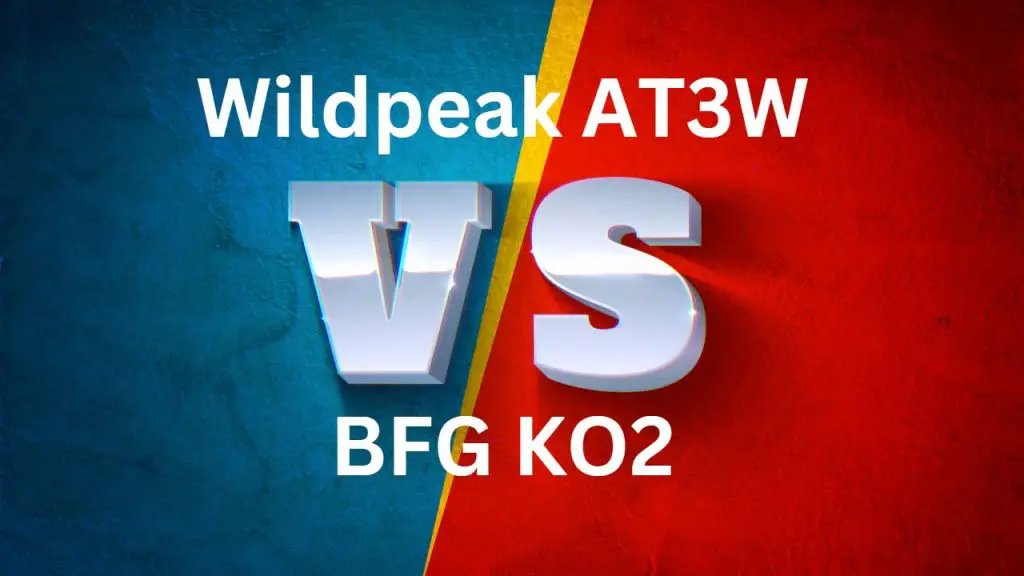 We'll compare the Falken Wildpeak AT3W vs BFG KO2 in this article to make it easier for you to decide which tire is better for your off-road activities. The BFG KO2 has always been a well-liked option when it comes to off-road tires. However, the Falken Wildpeak AT3W has recently gained attention as a serious contender in the market. With both tires offering impressive features and capabilities, it can be tough to decide which one is right for your vehicle.
Overview of Falken Wildpeak AT3W and BFG KO2 tires
The Falken Wildpeak AT3W and BFG KO2 tires are two popular options for drivers seeking all-terrain capabilities. The Wildpeak AT3W features a rugged design with deep tread grooves for improved off-road performance, while also providing a comfortable on-road driving experience. It also has 3D Canyon sipes that provide enhanced traction in wet conditions and snow.
The BFG KO2 on the contrary is a favorite among off-roaders due to its reputation for hardness and longevity. Its interlocking tire pattern maintains stability at high speeds on tarmac while also offering outstanding traction on muddy or rough terrain. Additionally, the sidewalls are reinforced to prevent punctures when venturing into rough terrain.
Features of falken wildpeak at3w
The Falken Wildpeak AT3W is a popular all-terrain tire that is designed to provide high performance both on and off the road. Here are some key features of the tire:
1. All-terrain tread pattern
The Falken Wildpeak AT3W features an aggressive and versatile tread pattern that provides reliable traction in a variety of terrains, including mud, snow, sand, and dirt. The tire's biting edges and larger shoulder blocks also help to enhance handling in wet conditions.
2. Twin steel belts
The Wildpeak AT3W has twin steel belts that are reinforced with nylon for added strength and durability. This helps to improve the tire's puncture resistance and long-term wear capabilities.
3. Heat diffuser technology
Falken has also incorporated heat diffuser technology into the Wildpeak AT3W, which helps to dissipate heat build-up as you drive. This prevents the tire from overheating and losing performance under heavy loads or sustained highway driving.
4. 3D Canyon sipes
The tires feature 3D Canyon Sipes that interlock for increased stability on slippery surfaces, while also promoting long-lasting wear in rugged terrain.
5. Optimized construction
Falken optimized this tire's construction by blending more advanced rubber compounds with a proprietary design featuring turn-up ply patterns for maximum strength while keeping weight to a minimum.
Read More: Yokohama Tires VS Michelin: Which is the Better?
Features of BFG KO2
The BFGoodrich All-Terrain T/A KO2 is a popular all-terrain tire that has gained a reputation for its durability and off-road capabilities. Here are some key features of the tire:
1. Aggressive all-terrain tread design
The KO2 has an aggressive tread pattern that provides excellent traction in mud, dirt, gravel and other tough terrains.
2. Strong puncture and cut resistance 
The tire's CoreGard technology helps protect it from potential sidewall damage, while the tougher rubber compounds used in its construction add to its durability and strength.
3. Better wet weather performance 
BFGoodrich redesigned the KO2 with a new tread design featuring more biting edges for improved wet grip. The specially designed shoulder blocks help disperse water and provide better handling on wet surfaces.
4. Quiet ride 
Despite its rugged looks, the KO2 delivers a comfortable and quiet ride thanks to its advanced noise-cancelling technology that reduces road noise.
5. Long-lasting tread life
The KO2's extended shoulder rubber gives it up to 20% longer tread life on pavement than its predecessor, while the serrated shoulder lugs enhance traction on soft surfaces like snow and mud.
6. Available in many sizes
The KO2 is available in a wide range of sizes, so you can get exactly the right fit for your vehicle whether you have a truck, SUV or crossover vehicle
Comparison of tread patterns and features
The tread design of a tire plays a crucial role in determining its performance on different terrains. The Falken Wildpeak AT3W and BFG KO2 are two popular all-terrain tires known for their excellent performance and longevity. The Falken Wildpeak AT3W features an aggressive, 3D sipe design that enhances traction and stability on wet, snowy, or icy surfaces. This tire also has deep treads that provide excellent grip on mud and loose soil.
On the other hand, the BFG KO2 boasts a more traditional tread pattern with large interlocking blocks that offer enhanced stability and handling on both wet and dry roads. This tire also has thick sidewalls that protect against punctures and cuts when driving off-road.
Evaluation of on-road and off-road performance
When it comes to evaluating the on-road performance of Falken Wildpeak AT3W and BFG KO2, both tires offer exceptional stability and traction. The Falken Wildpeak AT3W performs well in wet conditions, thanks to its aggressive tread pattern that efficiently channels water away from the tire's surface. On the other hand, the BFG KO2 provides outstanding grip on dry roads due to its sturdy sidewalls that provide excellent cornering stability.
In terms of off-road performance, both tires are impressive. The Falken Wildpeak AT3W has a more aggressive tread design with deep grooves that enable it to handle mud, sand, and snow effortlessly. It also has a unique heat diffuser technology that prevents overheating during high-speed driving on rough terrain. Meanwhile, the BFG KO2 features an interlocking tread block design that delivers superior traction on rocky surfaces and steep inclines.
When evaluating the performance of these two tires on different types of routes, including motorways to dirt roads they both provide dependable handling and durability. However, one might be a better option that the other depending on your specific requirements for both off-road or on-road driving circumstances.
Falken wildpeak at3w vs bfg ko2 road noise
The Falken Wildpeak AT3W and BFG KO2 are two of the most popular all-terrain tires on the market. While both provide excellent off-road performance, one area where they differ is in road noise. The Wildpeak AT3W is known for being quieter on paved roads than the KO2, thanks to its optimized tread pattern and variable pitch shoulder blocks that reduce noise.
On the other hand, the BFG KO2 is a more aggressive tire with larger lugs and deeper voids. This design increases the vehicle's ability to handle difficult off-road conditions, but it also makes the car noisier when moving at higher speeds on paved terrain. Some drivers might consider this trade-off worthwhile for the enhanced off-road capability.
Pricing comparison for both tires
When it comes to price comparison for Falken Wildpeak AT3W versus BFG KO2, there seems to be a slight difference. The price of the Falken Wildpeak AT3W is usually slightly lower than that of the BFG KO2. This might be explained by the fact that BFG KO2 has been on the market longer and is a more well-known brand than Falken.
It's crucial to remember that pricing change based on tire size. For example, a 265/70R17 size of the Falken Wildpeak AT3W costs approximately $165 while its equivalent in BFG KO2 goes for around $205. On average, if you're looking for an affordable option between these two tires, then you might want to go with the Falken Wildpeak AT3W.
According to your tastes and price range, both tires are excellent choices. Before making any purchases, it's important to consider other aspects like performance and durability even though there may be price disparities.
Analysis of tire lifespan and wear resistance
The Falken Wildpeak AT3W and BFG KO2 are two popular tire models for off-road enthusiasts. If it pertains to durability, both of the tires have a solid record. Iit is important to keep in mind there are few substantial distinctions in the two.
With routine maintenance the BFG KO2 is known to have a lifespan of up to 50,000 kilometers. The Falken Wildpeak AT3W is a newer model and does not have as extensive of a track record when it comes to longevity. However, early reviews suggest that they can also last well over 40,000 miles.
When it comes to wear resistance, both tires have features that improve their durability on rough terrain. The BFG KO2's tread pattern is designed for maximum traction in mud and snow while also reducing wear and tear on the tire itself. Likewise, the Falken Wildpeak AT3W has an aggressive tread pattern that provides excellent grip and improved wear resistance thanks to its three-ply sidewall construction.
Summary of customer experiences with each tire
The Falken Wildpeak AT3W and BFGoodrich KO2 are two of the most popular all-terrain tires on the market. Both have received numerous customer reviews, with many praising their performance in a variety of conditions.
According to customer reviews, the Falken Wildpeak AT3W is known for its excellent traction on both wet and dry surfaces. Additionally, even on tough terrain, it offers a smooth and comfortable ride, according to drivers. Although some customers have reported hearing some noise when traveling at faster speeds, overall they are happy with the tire's performance.
Similarly, the BFGoodrich KO2 has received high praise from customers for its exceptional off-road capabilities. Many drivers have reported improved handling and traction on rocky or muddy terrain after switching to these tires. However, several clients have also reported that, particularly at higher speeds, they can be rather noisy on paved roads. Overall, it appears that both tires are highly respected by customers and provide dependable performance under a variety of circumstances.
Pros and cons of falken wildpeak at3w
Pros:
Excellent off-road traction in mud, snow, and gravel.
Good handling on both wet and dry roads.
Long-lasting tread life due to durable construction.
Reduced road noise for a more comfortable ride.
A variety of sizes are available to fit the majority of automobiles.
Cons:
Initial cost can be higher than budget options.
Tread pattern may cause some vibration at high speeds.
Pros and cons of bfg ko2
Pros:
Excellent off-road traction due to aggressive tread pattern.
Durable and long-lasting, even on rough terrain.
Good wet weather performance with effective water evacuation.
Comfortable and quiet ride on the highway.
Available in a wide range of sizes for various vehicles.
Cons:
Expensive compared to some other tire brands.
Can be noisy at higher speeds on the highway.
Stiff sidewalls can make for a harsher ride over bumps and potholes.
Conclusion
In conclusion, both the Falken Wildpeak AT3W and the BFG KO2 are great options for off-road enthusiasts looking for maximum traction and durability. The Falken offers a more budget-friendly option with excellent performance in snow and wet conditions, while the BFG provides outstanding durability and is ideal for extreme off-roading. In final analysis, everything boils down to individual taste and needs. Whichever tire your select, be careful to maintain it correctly for optimum durability and performance. Don't let your tires hold you back from exploring new terrain – invest in quality tires like the Falken Wildpeak AT3W or BFG KO2 today!
The Next Road (thenextroad.com) is an affiliate of the Amazon Services LLC Associates Program, so you can access the Amazon marketplace when on this domain. We will earn a commission from your qualified purchases.