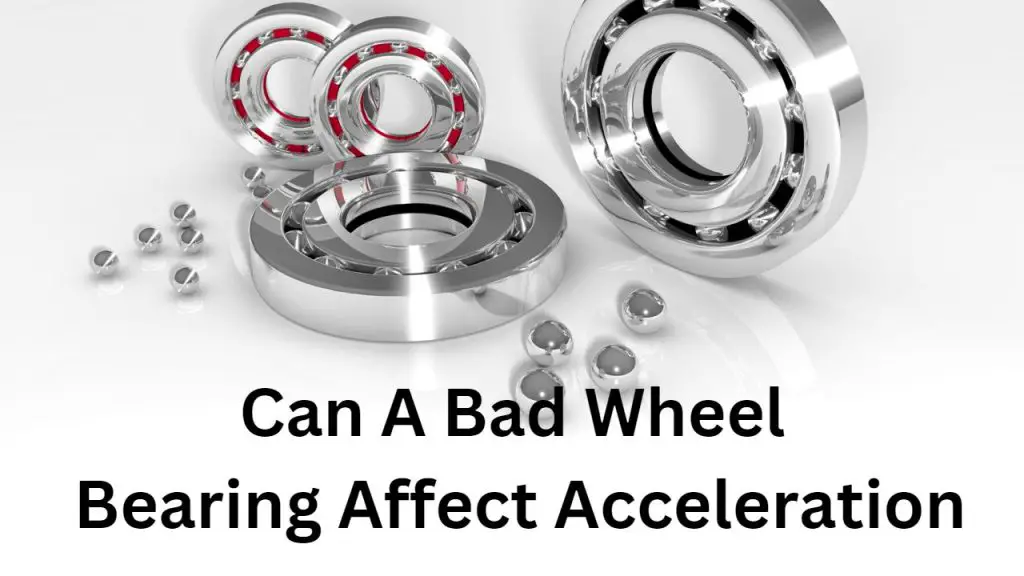 This post will go into great detail if your question is can a bad wheel bearing affect acceleration? Knowing these signs can help you maintain your car's operation so that it continues to perform faultlessly and safely on the road. So fasten your seatbelt as we discuss this crucial subject!
Explanation of wheel bearings and their function
The smooth rotation of the wheels around the axle is made possible by wheel bearings which are essential parts of a vehicle's wheel assembly. The bearing, which is found at the middle of each wheel center that is made up of a group of steel balls encased in a metal ring. They enable little friction between the wheel and axle when working properly, resulting in fluid and effective movement.
A bad wheel bearing can have various effects on a car's performance depending on its severity. These are explain in below.
Symptoms of a bad wheel bearing:
A bad wheel bearing can certainly affect acceleration. In fact, it can cause significant issues with your vehicle's overall performance. One of the common symptoms of a bad wheel bearing is vibrations felt in the steering wheel or through the floorboard. These vibrations are often more noticeable at higher speeds, but they can also occur when accelerating from a stop.
Another symptom of a bad wheel bearing is noise. This noise may sound like humming, grinding, or whirring and will typically increase in volume as your speed increases. In addition, a damaged wheel bearing can contribute to uneven tire wear by enabling your tires to shake while you drive which causes early tire wear on one side.
In order to prevent further damage and expensive repairs in the future, it is crucial to have your automobile evaluated as soon as you notice any indicators of a faulty wheel bearing, such as vibration or strange noises emanating from it while you are driving or accelerating.
How does a bad wheel bearing affect acceleration
A bad wheel bearing can definitely affect acceleration. The wheels and suspension system of an automobile depend heavily on the proper operation of the wheel bearings. Acceleration may be slowed by friction and misalignment between a wheel and its axle that are brought on by a worn-out or damaged wheel bearing.
A defective wheel bearing starts to make a grinding or rumbling noise that gets louder as the vehicle speeds up. This noise is a sign that the bearing is not spinning smoothly which causes friction to build up between the wheel and the axle and resistance to motion. This friction makes the wheel travel slowly, which makes it challenging for the car to accelerate.
Moreover, when a bad wheel bearing causes misalignment between the tire and axle, it affects both handling and performance. The vehicle may pull towards one side while driving straight or feel wobbly at high speeds due to uneven wear on tires caused by misalignment. All these factors contribute to slowing down acceleration significantly when there is a bad wheel bearing in any of your car's wheels.
Read More: What are tesla's all wheel drive?
Other factors that can affect acceleration:
There are other elements besides the engine and tires that might influence acceleration. The transmission system is one of them. The transmission plays a vital role in adjusting power output to determine the vehicle's speed and torque. A faulty transmission system can hinder acceleration by not allowing the engine to deliver enough power to the wheels.
Another factor that can affect acceleration is spark plugs. Spark plugs play a crucial role in igniting gasoline in the engine cylinders, thereby providing power for acceleration. Faulty or worn-out spark plugs can reduce engine performance, which leads to sluggish acceleration.
Finally, an exhaust system issue can also impact your car's acceleration. The exhaust system helps regulate emissions and noise while improving fuel efficiency and horsepower through better airflow. If there is any blockage or damage within this system, it could lead to reduced airflow and poor performance of your car during acceleration.
In conclusion, various components of your vehicle work together to deliver optimum performance during acceleration. In terms of whether bad wheel bearings affect acceleration – no, they do not directly influence it but could indirectly lead to vibrations that may cause discomfort while accelerating at high speeds.
How to diagnose and fix a bad wheel bearing
A bad wheel bearing can certainly affect acceleration and overall vehicle performance. In order to stop additional damage or potential safety issues, it's critical to identify and address this problem as soon as feasible. Listening for any odd noises, such as grinding or humming sounds, while driving is the first step in identifying a faulty wheel bearing. Furthermore, if the steering seems sloppy or the car pulls to one side, there can be an issue with the wheel bearing.
Once the issue has been identified, it is advisable that you have your car inspected and the broken wheel bearing replaced at a competent repair. The normal first step for the mechanic is to jack up the vehicle and remove the tire assembly from the problematic wheel. Before deciding whether a replacement is required, they will then examine and test the bearings for any looseness or play. If a replacement is required, the old bearings will be carefully taken out and replaced with new ones before everything is carefully put back together.
Conclusion
In conclusion, your car's acceleration can unquestionably be impacted by a faulty wheel bearing. It is important to get your car examined by a qualified mechanic right away when you discover any problems with its handling or speed. By doing it, you can take care of any issues prior to they worsen and possibly endanger your safety while driving.
The Next Road (thenextroad.com) is an affiliate of the Amazon Services LLC Associates Program, so you can access the Amazon marketplace when on this domain. We will earn a commission from your qualified purchases.