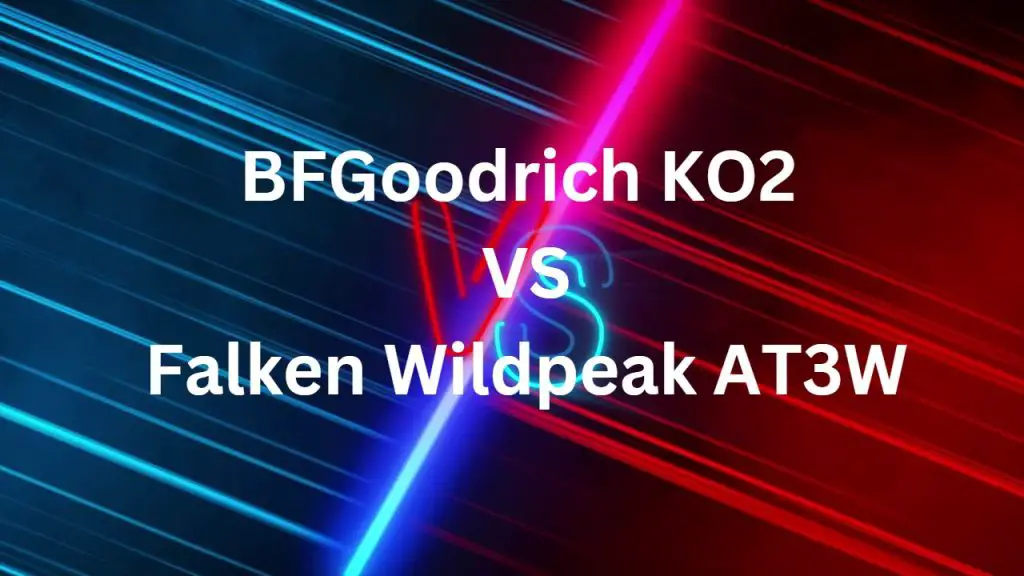 The BFGoodrich KO2 and the Falken Wildpeak AT3W are two excellent options when looking for the ideal all-terrain tire for your car. Both of these tires have established a solid reputation for being incredibly strong, trustworthy, and adaptable on diverse surfaces.
The BFGoodrich KO2 has long been a favorite among off-road aficionados. For individuals who frequently drive on rough terrain, it is the perfect solution because to its durable construction, aggressive tread design, and outstanding traction in mud and snow. The Falken Wildpeak AT3W, on the other hand, has comparable characteristics but also boasts exceptional handling on slick surfaces and increased fuel efficiency.
BFGoodrich KO2 vs Falken Wildpeak AT3W
Due to its outstanding performance and longevity, off-road enthusiasts frequently choose the BFGoodrich All-Terrain T/A KO2. Here are some of its main characteristics:
Features of BFGoodrich KO2
1. Aggressive Tread Design: The KO2 has a bold tread pattern with large interlocking lugs that provide excellent traction on both wet and dry surfaces. The tire's shoulders are also designed to deliver better grip in mud, sand, and loose gravel.
2. Tough Sidewall Construction: The KO2 has a special CoreGard Technology that reinforces the tire's sidewalls to make them more resistant to punctures and other types of damage. This allows the tires to handle rough terrain without fear of blowouts or cuts.
3. Long Life: The KO2 is made of rubber compounds that have been precisely developed to withstand chipping, tearing, and wearing away over time. In comparison to other all-terrain tires, these tires have a lifespan that is above average.
4. Improved Wet Weather Performance: BFGoodrich has optimized the tread pattern of the KO2's tread design for improved wet-road performance. As such, this tire can significantly reduce your risk of hydroplane if you find yourself in rainy situations while driving off-road.
5. Decent On-Road Comfort: The BFGoodrich KO2 delivers good on-road comfort levels that aren't unduly noisy or jarring for drivers searching for a mix between regular road use and all-terrain needs, while being developed as an off-road tire first and foremost.
Features of Falken Wildpeak AT3W
The Falken Wildpeak AT3W is another popular tire choice for off-road and all-terrain use. Here are some of its key features:
1. Aggressive Tread Design: The Wildpeak AT3W has a unique, multi-directional tread pattern with large lugs that provide grip in both wet and dry road conditions. The tread blocks are also designed to be self-cleaning, which helps prevent mud, snow, and rocks from getting stuck in the tread.
2. 3PMSF Rating: The Wildpeak AT3W has an official 3PMSF (Three Peak Mountain Snowflake) rating, which means it meets industry standards for severe snow performance.
3. Durability: The Wildpeak AT3W features Falken's Heat Diffuser Technology (HDT), which helps to dissipate heat and extend tire life. It also uses tough upper sidewall reinforcements to help protect against punctures and impact damage.
4. Comfortable Ride: Despite its aggressive design, the Wildpeak AT3W is designed to provide a comfortable ride on pavement thanks to Falken's proprietary 3D Canyon Sipe technology that helps reduce tread block movement for more even wear and better stability.
5. Noise Reduction: With this tire, Falken has also concentrated on minimizing road noise by utilizing a variable-pitch tread pattern that aids in sound wave dispersion for a calmer ride.
Tread patterns and durability variations
Two of the most well-liked all-terrain tires on the market right now are the BFGoodrich KO2 and Falken Wildpeak AT3W. The tread pattern of these two tires is one of their primary distinctions. Larger, more noticeable lugs and a more aggressive tread pattern on the KO2 provide it great traction over rocky terrain. On paved roads, however, the Wildpeak AT3W offers greater handling and stability because to its less aggressive tread pattern and smaller, closer-spaced lugs.
The durability of these two tires is another important distinction. Because of its sophisticated rubber compound and strengthened sidewalls, which can survive punctures and abrasions even in challenging off-road situations, the KO2 is renowned for its remarkable durability. Meanwhile, the Wildpeak AT3W offers good durability as well but may not be as tough as the KO2 when it comes to extreme off-road use. However, both tires are designed to last long and offer reliable performance for everyday driving or occasional adventures off-road.
Read More: Sumitomo Tires VS. Michelin
On-Road Performance
When it comes to on-road performance, the comparison of handling, noise, and comfort between BFGoodrich KO2 and Falken Wildpeak AT3W is worth noting. The BFGoodrich KO2 boasts exceptional handling characteristics thanks to its optimized tread design and advanced rubber compound. It offers remarkable grip and stability on both wet and dry roads, making it ideal for daily commutes or long highway drives.
On the other hand, the Falken Wildpeak AT3W is known for its low road noise levels that ensure a comfortable driving experience. Its hybrid shoulder blocks reduce tire pattern noise while also enhancing stability when cornering. Additionally, its heat diffuser technology allows for improved durability even under high load conditions.
In terms of comfort, both tires offer excellent ride quality but with different features. The BFGoodrich KO2 has a flexible sidewall that enhances shock absorption while also ensuring a smooth ride over rough terrain. Meanwhile, the Falken Wildpeak AT3W's symmetric tread design provides uniformity in wear resulting in improved ride comfort over time.
Off-Road Capability
When it comes to off-road capability, traction is a key factor. The BFGoodrich KO2 and Falken Wildpeak AT3W both offer impressive traction on various terrains such as mud, gravel and snow. However, the KO2's aggressive tread pattern with larger voids allows for better grip on loose surfaces like sand, while the Wildpeak AT3W's smaller voids provide more stability on rocky terrain.
Durability is also important in off-roading as rough terrains can take a toll on tires quickly. Both the KO2 and Wildpeak AT3W are constructed with strong materials to withstand damage from rocks and other obstacles. However, the KO2 has sidewall reinforcements that offer additional protection against punctures.
Lastly, self-cleaning ability is crucial in muddy or wet conditions where dirt can clog up tire treads. The Falken Wildpeak AT3W has special grooves designed for self-cleaning that prevent mud and debris from getting stuck in the tire treads. The BFGoodrich KO2 also has some self-cleaning capabilities but may require more frequent cleaning to maintain optimal performance. Overall, each tire has its advantages when it comes to off-road performance, which makes them both popular options among enthusiasts.
Cost and value evaluations for each tire
There are a few crucial aspects to take into account when contrasting the price and value of the BFGoodrich KO2 and Falken Wildpeak AT3W tires. The BFGoodrich KO2 is a well-liked option for off-road enthusiasts and anyone who frequently travel through difficult terrain because of its dependability and lifespan. The value over time can make up for the initial cost, which may be more than with certain other solutions.
The Falken Wildpeak AT3W, on the other hand, is renowned for its adaptability and all-terrain skills. This tire frequently costs less than some of its rivals while still providing excellent performance on both highways and off-road terrain. It's crucial to consider your unique needs as a driver when comparing cost and value.
What real customers are saying about each tire?
Customer reviews are a great way to gain insight into the performance of different tires. When it comes to the BFGoodrich KO2 and Falken Wildpeak AT3W, both tires have received positive feedback from customers. Many reviewers praise the BFGoodrich KO2 for its exceptional traction on both wet and dry surfaces, as well as its durability in off-road conditions. Customers also appreciate that this tire is relatively quiet on highways despite its aggressive tread design.
The Falken Wildpeak AT3W has also garnered praise from customers for its excellent handling in all weather conditions. This tire offers a smooth ride while maintaining remarkable off-road characteristics, according to reviews. The Falken Wildpeak AT3W delivers good value for the money in comparison to other high-end all-terrain tires, according to numerous consumers.
Advantages and Disadvantages BFG ko2 vs wildpeak AT3W
Advantages of BFGoodrich KO2
Excellent off-road traction and durability.
Impressive snow and mud performance.
Enhanced sidewall protection against cuts and punctures.
Long tread life with even wear pattern.
Quiet and comfortable on the highway.
Disadvantages of BFGoodrich KO2
Higher cost compared to some other all-terrain tires.
Heavier weight can negatively affect fuel economy.
Advantages of Falken Wildpeak AT3W
The Falken Wildpeak AT3W has excellent traction on both wet and dry surfaces, making it suitable for all weather conditions.
It has a durable construction with reinforced sidewalls that can withstand rough terrain and resist punctures.
The tire provides a comfortable ride with reduced road noise and vibrations.
It has good steering response and stability, making it easy to handle on the road.
The Falken Wildpeak AT3W comes with an impressive mileage warranty of up to 65,000 miles.
Drawbacks of Falken Wildpeak AT3W
It is relatively expensive compared to other all-terrain tires in the market.
It may cause some fuel inefficiency due to its heavier weight compared to other tires in its class.
The Falken Wildpeak AT3W may not be as aesthetically pleasing as some of its competitors with more aggressive designs.
Which tire is better for your needs?
The decision between these two tires ultimately boils down to your unique needs. The BFGoodrich KO2 may be preferable if you want to conduct more off-roading than highway driving because to its higher traction. However, if you're looking for something that can handle both off-road and wet weather conditions comfortably while providing a smooth ride on highways too – then go for Falken Wildpeak AT3W tire!
Conclusion
In conclusion, both the BFGoodrich KO2 and Falken Wildpeak AT3W are exceptional all-terrain tires that offer impressive performance on and off-road. The BFGoodrich KO2 may have a slight edge in terms of durability and overall off-road capabilities, while the Falken Wildpeak AT3W provides a smoother and quieter ride on highway commutes.
The decision between these two tires is going to rely on your unique driving requirements & preferences. Whichever tire you ultimately decide on, as per we know that both manufacturers have a history of creating high-quality goods which can deliver outstanding performance for many years. Purchase one of these tires right away to enjoy a driving experience like no other!
The Next Road (thenextroad.com) is an affiliate of the Amazon Services LLC Associates Program, so you can access the Amazon marketplace when on this domain. We will earn a commission from your qualified purchases.