This article will help you to find the best motorcycle for short women that offers not just style and performance but also comfort and safety. We are trying to write article with our best of knowledge.
Some of the Best Motorcycle for Short Women include:
1. Harley Davidson SuperLow:
The Harley Davidson SuperLow deftly combines style and ease-of-use, making it the perfect companion for short women with a passion for the road. It flaunts a low seat height of merely 25.5 inches which makes getting on or off this beast a breeze, providing an added advantage apart from lending better handling capabilities to riders.
Harley Davidson has ensured that comfort is not compromised with the lowered stance – the suspension makes you feel almost cocooned against road bumps and irregularities. Riders are welcomed by softened springs and dialed damping which make long rides as smooth as sailing over glassy waters. With reduced reach bars and foot controls moved closer to you, every second spent with SuperLow feels especially tailored to your needs. Its sleek design adorned in gleaming chrome manages to marry luxury aesthetics with user-friendly ergonomics effortlessly, making it irresistible for those seeking both character and confidence in their ride.
2. Honda CTX700:
In our selection the best motorcycle for short women, The Honda CTX700 is an unforgettable ride for all, especially women of shorter stature. With a curb weight of 494 pounds and an accessible seat height of 28.3 inches, this comfortable cruiser motorcycle exudes confidence in every petite rider, while making it easy to balance and maneuver at stop signs or signals.
Integrating user-friendly elements like an Automated Dual Clutch Transmission (DCT) augmenting easier rides without the fuss of clutch management and manual shifting; the bike becomes a top choice for those just starting out or wanting a reprieve from constant clutching. Absorbent suspension systems ensure smooth cruises even on bumpy terrains, enhancing your overall motorcycling experience. The streamlined design offers a modern look with traditional Honda reliability – giving you not only the comfort but also the joy of riding in style!
3. Triumph Street Twin:
Stamping its authority in the realm of motorcycles is the Triumph Street Twin – a machine featuring style, comfort, and engineering brilliance tailored to accommodate petite riders. Its low seat height of just 29.9 inches has been keenly designed not only to ease shorter women motorcyclists but also enhance bike handling and rider confidence.
This modern classic packs an accessible torque-rich Bonneville engine which provides sufficient power even for adventurous spirits, yet remains manageable for day-to-day city cruising or weekend rides. The substantial attention given to ergonomics such as slim width profile and easily reachable controls are pinnacle highlights showcasing Triumph's initiative to cater universally. Furthermore, Street Twin's customizability factor allows short riders to modify aesthetics without compromising on the functionality— making it more than just a motorcycle ride but an extension of their unique personality on wheels.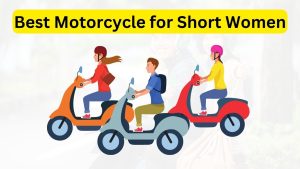 4. Kawasaki Ninja 250R/400R:
With a seat height of just 30.9 inches, the Kawasaki Ninja 250R and 400R offer an excellent alternative for short women riders. Their lower stance combined with a slim and lightweight design ensures your feet are flat on the ground, providing you confidence while maneuvering corners or stopping at traffic lights. Despite their accessibility to shorter riders, these motorcycles don't compromise on performance!
The Ninja 250R is powered by a compact, high-performance engine with dual overhead cams that deliver impressive power across the rev range. On the other hand, its sibling, the Ninja 400R draws power from a bigger engine that offers more torque and top speeds without intimidating novice riders. Wrapped in aggressive Ninja styling inspired by larger siblings such as ZX-10R and ZX-6R models, these bikes not only feel great to ride but also turn heads wherever they go!
Read More: What is the Fastest Motorcycle in GTA 5?
5. Suzuki VanVan 200:
The Suzuki VanVan 200 is a small, stylish motorcycle that's ideal for shorter women. With its retro design, wide balloon tires and spacious seat, it manages to look good while also providing high levels of comfort. Plus, the low seat height of 770mm means even riders with shorter legs can place their feet firmly on the ground. This is a bike designed for ease and fun rather than speed; its 199cc single-cylinder engine promises smooth handling without an intimidating amount of power.
With the VanVan 200, short rides or trips around town no longer feel like mundane tasks but exciting adventures instead. It has an old school charm with modern functionality that creates balance between style and usability. The fat rear tire gives an extra layer of stability, especially in tricky terrains making this motorcycle not just about looks but also about confident rides! Don't let its size fool you; this compact beauty boasts excellent fuel economy, so it's perfect for those who want both convenience and cost-effectiveness from their two-wheeler.
6. Ducati Scrambler Sixty2 / Icon:
The Ducati Scrambler Sixty2 Icon defies the old adage that big things don't come in small packages. Uniquely adjusted to accommodate shorter riders, it's home to a lower seat height of just 31 inches, promising accessibility and comfort for all. For women under 5'4 or even shorter, this beauty is an absolute must-have option where control and confidence are your prime criteria.
As if that wasn't enough, the Scrambler Sixty2 doesn't sacrifice power for size – quite the opposite in fact. This sassy machine houses a peppy 399cc L-twin engine at its core which promises a smooth ride without compromising on thrill or functionality. And with its sleek design and vintage flair making sure you stand out on every journey, this petite powerhouse turns the narrative around completely by showing how stylish navigating life in the short lane can be!
7. Yamaha MT-07 / FZ-07:
Yamaha MT-07 FZ-07 is an absolute game-changer for smaller riders and particularly women. Its low seat, superior clutch control and appealing nimbleness allow shorter riders to handle the bike with confidence. Weighing just 403 lbs wet, it's light enough to manage in sticky situations but still offers a satisfying feel of substance between your legs.
The heart of this beast, a 689cc liquid-cooled inline twin engine that delivers a healthy dose of power making it fun to ride in any scenario. Another notable feature is its slim design which allows greater maneuverability and makes stationary balance easier, even for those whose feet don't fully touch the ground. In short, Yamaha MT-07 FZ-07 takes center stage for short women riders who want both comfort and unadulterated biking excitement.
8. BMW G 310 R:
Next on our list, the BMW G 310 R lets you get a taste of luxury biking even if you're vertically challenged. A commendable feature is the rather low seat height of just 785mm, which provides greater confidence for shorter riders at stops and during maneuvers. The dynamic design exudes elegance combined with spunky performance, providing smooth riding experience for women who love powerpack pleasure without feeling overburdened.
Performance meets comfort with this model as it comes equipped with practical ergonomics tailor-made for smaller frames. Furthermore, it's brimming with technology, like its efficient braking system and immaculate handling stability despite its compact size. The BMW G 310 R sure erases any worry about being short-statured or less muscular than an average rider; what matters more is your passion to ride through open roads while embracing luxury. best motorcycle for short women
The Next Road (thenextroad.com) is an affiliate of the Amazon Services LLC Associates Program, so you can access the Amazon marketplace when on this domain. We will earn a commission from your qualified purchases.