The best and most popular toy car brands that have attracted adults and kids equally, we will be covered in this article. This list will help you identify some of the most well-known and beloved brands in the industry, if you're seeking for timeless favorites and if you want to keep up with the most recent new arrivals.
20 Most Popular Toy Car Brands 
1. Hot Wheels 2. Matchbox 3. Maisto 4. Bburago 5. Siku 6. Majorette 7. Corgi 8. Norev 9. Tomy Tomica 10. GreenLight Collectibles 11. Johnny Lightning 12. Welly 13. New-Ray Toys 14. M2 Machines 15. Jada Toys 16. Revell-Monogram 17. Auto World 18. Kyosho 19. Kinsmart 20. Schuco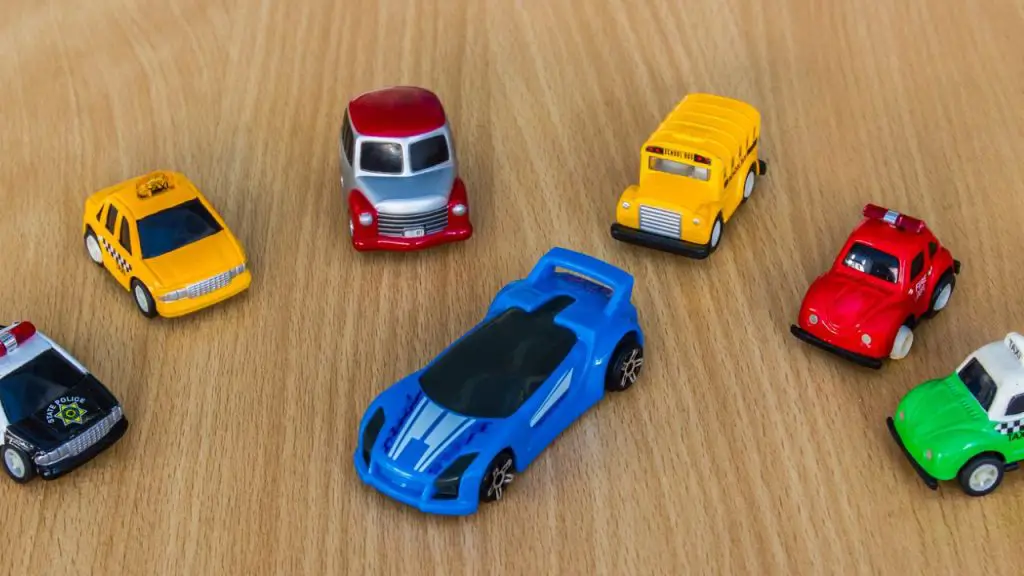 1. Hot Wheels
Hot Wheels: the epitome of toy car brands. Hot Wheels has been capturing kids' and adults' imaginations for decades with its recognizable orange tracks and large selection of toy cars. The company's focus on specifics and excellent craftsmanship as well as innovative designs have helped to earn its position as one of the top toy vehicle manufacturers on the market.
2. Matchbox
Matchbox has long been a favorite among kids due to its collection of toy cars. Matchbox, which is popular for its renowned small cars and trucks, provides a wide selection of collectible cars and trucks that are beloved with both children and adults. All Matchbox vehicles are meticulously designed to precisely match their real-life counterparts, giving them an impressively realistic appearance that appeals with car supporters of all ages.
The emphasis on authenticity that Matchbox places on its products sets them apart from other toy vehicle manufacturers. Many Matchbox toys have moving parts, including doors or hoods that open and close, allowing kids to play with their favorite cars while simultaneously discovering their inner mechanic. Additionally, Matchbox regularly releases special editions and limited-edition sets featuring popular movie cars or iconic vehicles from different eras, further adding to the brand's appeal among collectors.
3. Maisto
Maisto is definitely a name that shines out when it comes to toy car brands. Maisto has been a favorite among collectors and enthusiasts alike due to its extensive product line & stellar reputation for quality.
The attention to detail that Maisto exhibits is one of the primary variables in its reputation as one of the top toy vehicle manufacturers. Maisto makes the effort to make sure every small aspect is precise, whether they are building a realistic copy of a modern supercar or a historic sports car.
The affordability of Maisto distinguishes it from other toy vehicle manufacturers. Maisto provides alternatives for those on a budget, even though some collectors would be ready to spend a lot of money on expensive die-cast models.
4. Bburago
Die-cast miniature vehicles and motorcycles are the focus of the well-known Italian company Bburago. With more than 40 years of expertise, Bburago has developed a reputation for producing toy cars that are both realistic and highly detailed, appealing to both collectors and kids.
The great attention to detail that Bburago places into their goods sets them apart from other toy vehicle manufacturers. Each model is carefully crafted with precision, capturing even the smallest design elements of the original vehicles they are based on. From authentic paintwork to accurate interiors, Bburago's models are often considered miniature replicas that showcase incredible craftsmanship.
5. Siku
One of the best toy car brands that has gained immense popularity among kids and collectors alike is Siku. Siku, which is well-known for its premium die-cast automobiles, provides a vast selection of cars, trucks, construction vehicles and even copies of agricultural machines.
Classic automobiles from well-known producers including Mercedes-Benz, BMW, Audi, and Porsche are included in Siku's collection. Siku makes sure there is something for every automobile lover, whether they want sleek sports cars or tough off-road vehicles. Moreover, their selection also features unique limited edition models that are highly sought after by collectors.
6. Majorette
For many years, automotive collectors and enthusiasts have been enthralled by the legendary marque Majorette. Due to its strict attention to detail the Majorette has established themselves as one of the best toy car brands on the market. This business makes miniature cars with exact dimensions and features that are exact reproductions of their bigger than life equivalents.
7. Corgi
The Corgi has long been an established brand in the toy car market because of its premium die-cast designs. For any enthusiast or collector, Corgi provides a vast selection of vehicles, including cars, trucks and buses. Each miniature car is an accurate copy of its actual life equivalent because of their careful analysis of facts.
Corgi takes pride in the special editions and cutting-edge features that set their models apart from the competition. From opening doors and detailed interiors to working lights and realistic sound effects, Corgi's toy cars are not just static display pieces but also offer an interactive play experience.
8. Norev
One of the most popular toy car brands available today is Norev. The dedication to realism and authenticity of Norev distinguishes them from other toy automobile manufacturers. Each model is meticulously designed and reproduced to capture every minute detail of the real car it represents. From the body shape to the interior features, Norev ensures that every aspect of their models reflects the essence of the actual vehicle.
Another reason why Norev stands out is their use of premium materials in manufacturing their toy cars. The brand uses durable die-cast metal for most of its models, which not only adds weight and realism but also ensures longevity. This makes Norev's toy cars highly sought after by both children and adult collectors who appreciate quality craftsmanship.
9. Tomy Tomica
One of the most popular and beloved toy car brands among children and collectors alike is Tomy Tomica. Known for their high-quality construction, attention to detail, and wide range of vehicles, Tomy Tomica has been a favorite choice for many years. With a focus on realistic design and functionality, these toy cars provide endless hours of imaginative play.
Tomy Tomica offers an extensive collection of vehicles that cater to various interests. From classic cars to modern sports cars, emergency vehicles to construction trucks, there is something for everyone. Each vehicle is meticulously crafted with intricate detailing such as opening doors, moving wheels, and even working headlights in some models.
What sets Tomy Tomica apart from other toy car brands is its commitment to authenticity. Tomy Tomica consistently delivers on their promise of quality and realism.
10. GreenLight Collectibles
GreenLight Collectibles is one of the top toy vehicle manufacturers currently available. This brand has gained popularity among collectors and experts due to its rigorous attention to detail and outstanding design. GreenLight Collectibles creates models that are painstakingly built and painted to resemble miniature versions of actual automobiles.
What sets GreenLight Collectibles apart from other toy car brands is its dedication to authenticity. They collaborate with various automotive manufacturers and license holders to ensure that their models accurately represent the original vehicles in terms of design, colors, and logos. This attention to detail has made GreenLight Collectibles a favorite among both collectors and car enthusiasts who appreciate accuracy.
Another reason why GreenLight Collectibles stands out is its wide range of offerings.
11. Johnny Lightning
Johnny Lightning is a renowned toy car brand that has been capturing the hearts of both children and collectors for decades. Oe of the standout features of Johnny Lightning cars is their realistic design, which accurately replicates famous models from different eras.
With a commitment to authenticity, Johnny Lightning consistently delivers miniature replicas that closely resemble the original vehicles in terms of paint schemes, body styles, and even tiny interior details. Whether they are looking for antique trucks, legendary sports cars, or classic muscle cars, collectors may choose from a variety of alternatives in the Johnny Lightning lineup.
Johnny Lightning offers a range made especially for kids who wish to enjoy the pleasure of playing with toy automobiles in addition to catering to adult collectors. These kid-friendly solutions keep the recognizable quality and meticulous attention to detail associated with this reputable brand while showcasing vivid colors, straightforward patterns and simple functionalities. With its rich history in producing top-notch toy cars loved by generations worldwide, Johnny Lightning continues to be at the forefront when it comes to delivering exceptional playtime experiences and satisfying the desires of avid collectors alike.
12. Welly
Welly is unquestionably a brand you cannot ignore when it comes to toy cars. Due to its outstanding quality as well as careful attention to comprehensively the Welly has been regarded as an essential brand for both kids and adults. They have a wide variety of vehicles in their collection from older automobiles to modern sports cars as well so there's something for everyone.
13. New-Ray Toys
In the realm of toy automobiles, New-Ray Toys is a well-known and highly esteemed company. It's little wonder they have become a favorite among collectors and kids alike given their dedication to quality, focus on detail, and inventive designs. Everyone may find something at New-Ray Toys, whether they're looking for exciting and inventive race cars or realistic copies of well-known car types.
One of the standout features of New-Ray Toys is their dedication to accuracy. Their scale models are meticulously crafted to resemble the real-life vehicles they represent, making them perfect for enthusiasts who appreciate authenticity. From the paint job to the small details like logos and decals, every aspect of these toys is designed with precision.
14. M2 Machines
M2 Machines is a popular toy car brand known for its highly detailed diecast vehicles. Due to its wide selection of models the M2 Machines has become a favorite both collectors and amateurs. Each car is skillfully constructed to look just like what's inside with unmatched attention to detail.
One of the standout features of M2 Machines is their dedication to accuracy. Every tiny detail, from the paint job to the interior design, is replicated faithfully on their toy cars.
Another reason why M2 Machines stands out in the world of toy car brands is their commitment to uniqueness.
15. Jada Toys
One of the most famous and recognized toy car brands on the market today has Jada Toys. Due to its wide range of products the Jada Toys has grown into a popular brand among kids as well as adults.
Jada Toys features a wide selection of vehicles that are fully licensed by popular movies including Fast & Furious, Marvel, DC Comics and Transformers. These accurate replicas allow fans to bring their favorite characters to life in miniature form. Furthermore, Jada Toys also produces original designs that cater to various interests and preferences.
The brand's commitment to innovation is evident through their use of advanced technology in their models. Many Jada Toys cars feature working headlights, opening doors, realistic engine sounds, and even remote control capabilities.
16. Revell-Monogram
Revell-Monogram is a renowned name in the world of model car kits. Jada Toys has an extensive range of officially licensed cars from well-known films such as Fast & Furious, Marvel, DC Comics and Transformers. Each kit comes with meticulously molded parts that allow builders to recreate every aspect of the real car faithfully. Whether it's the engine bay, interior cabin, or exterior design, these models boast incredible realism that truly stands out on display.
17. Auto World
There are lots of businesses that have made significant contributions to the toy car industry. Hot Wheels is one such business famous for its characteristic orange track sets as well as broad selection of die-cast cars. Hot Wheels have young and old vehicle aficionados' attention with their slick designs and limitless variety.
18. Kyosho
Leading toy car manufacturer Kyosho is renowned for its premium materials and cutting-edge styles. They offer a wide variety of products and serve both novice and seasoned collectors. Kyosho has a huge selection of remote-controlled vehicles that are intended to simulate real driving.
19. Kinsmart
One of the top toy vehicle brands on the market right now is Kinsmart. Young and old car enthusiasts can both find the right types as well as styles at Kinsmart. Due to their meticulous attention to detail and high caliber manufacturing, their miniature cars are extremely sought after by collectors.
One of the standout features of Kinsmart toy cars is their realistic design. From the sleek exteriors to the intricate interiors, these miniature vehicles are made with great precision and accuracy. Whether it's a sports car, classic car, or even a construction vehicle, Kinsmart captures all the essential elements that make each model unique.
Not only do Kinsmart toy cars look impressive on display shelves, but they also offer an enjoyable playtime experience for children. The smooth rolling wheels and durable construction ensure that these toys can withstand hours of imaginative play.
20. Schuco
In the realm of toy automobiles, Schuco is a well-known and reputable brand. Premium die-cast model cars have been produced by this German company, whose origins date to the year 1912, for over a century. Due to their painstaking attention to detail and craftsmanship the Schuco cars are highly treasured by both collectors and enthusiasts.
The emphasis on realism that Schuco places on its products distinguishes it from other toy car manufacturers. Each model car is painstakingly created to faithfully reproduce its real-world counterpart, ensuring that every minute feature is precisely captured. Whether it's the shape, color, or even the tiniest insignia, Schuco cars strive for perfection.
10 Old Toy Car Brands
Here is a list of 10 Old Toy Car Brands that have been around for many years:
1. Dinky Toys: Produced by the British company Meccano Ltd., Dinky Toys were popular die-cast toy cars in the mid-20th century.
2. Corgi: Another British brand, Corgi created die-cast toy cars with intricate detailing and features like opening doors and working parts.
3. Solido: A French brand established in the 1930s, Solido focused on producing high-quality die-cast metal vehicles, including cars, trucks, and military vehicles.
4. Tootsietoy: Founded in the early 20th century in the United States, Tootsietoy was known for their durable die-cast toy cars made from a mix of metal alloys.
5. Lesney/Matchbox: Matchbox cars were initially produced by Lesney Products & Co Ltd.; these small die-cast vehicles became widely popular due to their affordability and wide range of models.
6. Schuco: Known for their clockwork tinplate toys, Schuco started producing toy cars in the early 20th century and continued to create unique wind-up vehicles.
7. Tekno: A Danish company founded in 1928, Tekno primarily produced scale model vehicles made of pressed steel, including cars, trucks, and construction equipment.
8. Marklin: Marklin is a German manufacturer famous for its high-quality tinplate toy cars produced from the late 19th century until today.
9. Buddy L: Established in the early 20th century, Buddy L produced tough and robust pressed steel toy trucks and construction vehicles that became immensely popular.
10. Nylint: Nylint Corporation specialized in producing sturdy and large-scale metal toy trucks known for their realistic designs and features like working parts and sound effects.
Final thought of toy car brands 
There are a number of toy car manufacturers that stand out as the greatest in terms of caliber, appeal, and popularity. Outstanding toy automobiles have continually been produced by companies like Hot Wheels, Matchbox and Maisto capturing the interest of both children and collectors.
The Next Road (thenextroad.com) is an affiliate of the Amazon Services LLC Associates Program, so you can access the Amazon marketplace when on this domain. We will earn a commission from your qualified purchases.